Last Race for Liberty
Looking back at what cross country has taught me.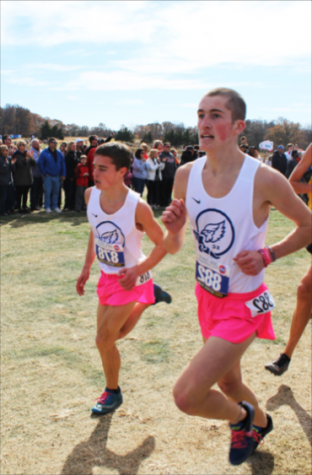 A couple of weeks ago on November 16, I was faced with the last cross country race I would run in high school. It was at Nike Cross Regionals in Terre Haute, Indiana and our race consisted of 500 runners from all around the Midwest.
I walked into the race like any other runner: stressed. However, this race felt different. A crowd of thousands of people surrounded the starting straight-away, waiting for the gun to go off. Usually, a starting gun would fire and mark the beginning of a race, but at Nike Cross Regionals the race is started with a round of fireworks. The fireworks were launched behind me and boomed across the course.
The race definitely hurt, but I was enjoying every step of it. The race was decently fast, but the course was fairly muddy. At the last 600 meters left in the race, I turned onto the final path. The finish was made to be a make or break moment in the race, it was a flat and open field that stretched for what felt like an eternity.
At this moment all the pain went away and my eyes closed in on the back of every competitor in front of me. I used this finish to my advantage and caught as many people as I could. I gave it all I had at the end as I crossed the finish line.
I zipped through the finish with a time of 17 minutes and 2 seconds for a 5K.
I knew this was my last race, but I realized that the journey wasn't over.
This was my sixth year of running. Running is a part of me. I spend every morning before school and every afternoon running. It has not only made me physically stronger, but it taught me things about life.
I learned about hard work, confidence, and teamwork. I learned that to be a good runner you have to put in nonstop work and be confident while doing it.
When I finished my race at regionals, I realized just what it meant to be a runner. It doesn't all matter about one race, it matters about what you take away from the sport.
The great thing about running is that it doesn't end after high school. Whether I choose to run in college or not, there will always be a community for running and there will always be a race to join.