Marching On
Looking back at the past four years in marching band.
Throughout my four years in the marching band, two years in Blue Jay Pride and Guard and two years in Vanguard, some might not consider it a sport, but we are out early in the morning and put in everything we've got.
Blood, sweat and tears go into the work that we put on the field. Blood comes from cutting yourself with your instrument. Sweat comes from band camp, and tears come from the joy of the competition scores.
I started marching band as a freshman, not knowing what to expect. As freshmen, we had to learn how to march in a week and then part of the show, which was a lot to take on. Now, as a senior, I know how to handle all the things we have to do and I've grown a particular love for marching band. I love to perform a show no one has seen and the way we feel like a family.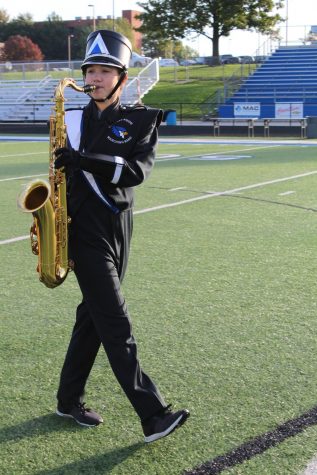 I believe all the good times I have had in marching band have come from long days. Band camp starts in late July and goes into early August. At the end of the season, competitions are from 8 a.m. to 10 p.m. or even midnight. Though it might belong days I enjoy spending that time with my friends in band.
The best thing about band camp is meeting all of the new people. The competitions and bus rides are what I will miss. We got to mess around, play games and overall enjoy everyone's company.
During competitions, our band gets the benefit from watching other bands that put in as much effort as we do. I love the thrill of not knowing what our score will be and seeing if we can make it to the finals. When we get on the field, we give it everything we have and always looking at our mistakes to help us improve. As we wait for the feedback from the judges, we work on fixing the mistakes that we saw and try to improve what we have done, but have fun doing it.
Though we have the fun parts in band, there have been bumps along the road too. Sometimes we all have too much energy and get nothing done, but we still push through every rehearsal to get the best forms and upper body on the field.
I will miss the inside jokes with my section and the craziness that came with early mornings and Thursday night rehearsals. All the things I have learned from marching band, I plan to use it in college to join their band.