Peer Impact
For this school year, the new spirit leaders are seniors Devin Wallace and Morgan Cannon.
Spirit leaders find ways for student's voices to be heard after COVID-19 dwindled student expression. Spirit leaders are two classmates handed the task of controlling the crowd and maintaining spirit outside and withinthe school.
Due to COVID-19, spirit in the school went down. There were fewer availabilities to get involved in the school and social distancing made it challenging to communicate with peers. To win back some character and joy in classrooms, Morgan Cannon and Devin Wallace aim to involve the public in their affairs to ensure students have a voice. Even if that means puttingthemselves out there when trying to show spirit. "I try and just wear the most exotic and crazy outfits to make myself look dumb," Wallace said. "So maybe other people will be confident enough to do the same thing as me."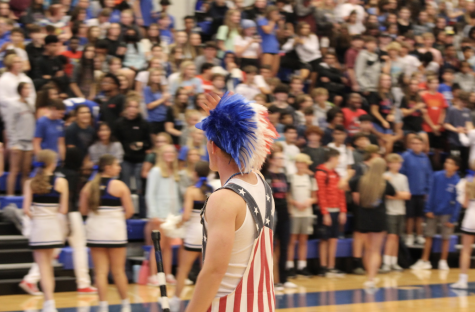 When the goal is maintaining and ensuring school spirit, sometimes it is necessary to go overboard with the outfits. Donuts during game days, taking in student suggestions and game day themes are three of the ways Cannon and Wallace hope brings more Blue Jay joy into the day.
As they are a voice for the students, Wallace and Cannon ensure that student opinions are heard by communicating their needs to the administration. Tasks such as organizing spirit weeks, participating in leadership class, maintaining social media accounts, creating and performing chants and allowing students to express themselves at the school are one of the many demands for these seniors.
"When moving on to college," Cannon said. " I want to take away that I made an impact in the school and that other people felt like their voices were heard and that they were able to make an impact." To follow along with Cannon and Wallace's spirit leader antics, follow their Instagram page.
Leave a Comment