Throwing Away Racism?
How a former NFL coach is trying to expose systemic racism and other issues in the NFL.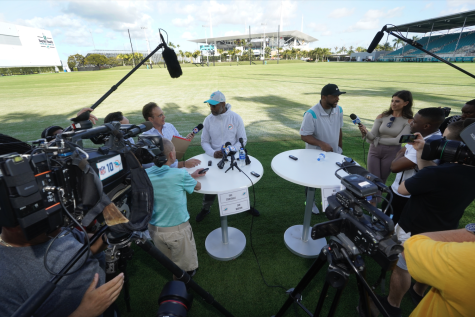 70% of all NFL players are African American. Only three NFL coaches are African American. Brian Flores is attempting to figure out this inequality with a recent lawsuit filed against the NFL on Feb. 1, alleging racism in the hiring process and being paid to lose games.
Flores began his coaching career with the New England Patriots as a defensive coach. After Flores' successful stint as a coordinator, he was hired by the Dolphins in 2019. In his first year as Dolphins coach, the team finished with a 5-11 record and top-five draft pick. Flores then led the team to a 10-6 and 9-8 season in 2020 and 2021 respectively before being fired on Jan. 10.
"The purported basis for his termination was alleged poor collaboration," the class-action lawsuit filed in federal court says. "In reality, the writing had been on the wall since Mr. Flores' first season as Head Coach of the Dolphins, when he refused his owner's directive to 'tank' for the first pick in the draft. Indeed, during the 2019 season, Miami's owner, Stephen Ross, told Mr. Flores that he would pay him $100,000 for every loss, and the team's General Manager, Chris Grier, told Mr. Flores that "Steve" was "mad" that Mr. Flores' success in winning games that year was "compromising [the team's] draft position."
Another big part of the lawsuit is a series of text messages between Flores and Patriots head coach, Bill Belichick, where Belichick congratulated Flores on his hiring by the New York Giants before Flores even had his interview. This would've meant that the Giants had their mind made up on their new coach, Buffalo Bills offensive coordinator Brain Daboll, and that Flores' interview was a waste of his time. It would also mean that the interview was merely to satisfy the Rooney Rule, a rule meant to encourage more minority head coach interviews and hires. What is so odd about this exchange between Flores and Belichick is that why would the coach of a completely different team know about the hiring before it was announced by the Giants. I can only wonder why the Giants would choose a less qualified candidate over Flores even prior to the lawsuit and why they'd have their mind made up beforehand.
"I think Brian Flores will get a HC job due to his experience," freshman Andrew Fiacco said. "He also has a defensive mindset that seems to work every time on the field against the opposing team."
"
I think Brian Flores will get a HC job due to his experience. He also has a defensive mindset that seems to work every time on the field against the opposing team."
— Fiacco
Also, according to the lawsuit, Flores alleges another "sham interview" with the Denver Broncos in 2019 where he said the then-general manager John Elway and others arrived to his interview late and hungover. I don't believe that this point affects the lawsuit as much as something like the alleged tanking because I don't think that Flores will be able to prove that Elway and others being hungover at the interview was due to him being African American. Another point that goes against Flores' claim here is the fact that the Broncos hiring Vic Fangio is no detriment to Flores in the 2019 coaching cycle, Fangio was a good defensive coordinator for the Chicago Bears and was somewhat similar to Flores in terms of coaching background and qualifications. Also, in the Broncos' official statement, they said that they appeared hungover because they had to take a long flight and have a late interview with Flores to accommodate his schedule.
"I believe the lawsuit will be in favor for the NFL and commissioner Roger Godell," Fiacco said "Although I think it will still open up more opportunities for others like Brian Flores."
Time will tell if Flores will win the lawsuit, but his protests to hire more minority coaches may have already helped to diversify the league's head coaching pool. On Feb. 7, the Houston Texans hired defensive coordinator Lovie Smith as their head coach and on Feb. 6 the Dolphins hired San Francisco 49ers offensive coordinator Mike McDaniel, who is biracial, becoming the third and fourth minority head coaches in the NFL alongside the Steelers' Mike Tomlin and the Jets' Robert Saleh.
"I think it'll change the league by opening a more diverse door for other ethnicities," Fiacco said. "It'll also change how NFL teams look at people and how well they'll do even if they have a lack of a resume or anything relating to their race."
Despite Flores' lawsuit possibly limiting his head coaching opportunity for the time, he was hired by the Pittsburgh Steelers on Feb. 20 as an assistant defensive coach and plans to continue with the lawsuit. If Flores wins the lawsuit, Ross could be outed as Dolphins owner, the Rooney Rule may be replaced with something similar in function and the NFL coaching pool may see a large uptick in minority coaches. To stay updated with this story, the news page on NFL.com will have any new updates to this story and for football related topics in our school, visit https://lhsathletics.lps53.org/page/show/6513519-football-2021-.
Leave a Comment