Principal of the Year
LHS principal receives the Missouri State 2022 Principal of the Year award.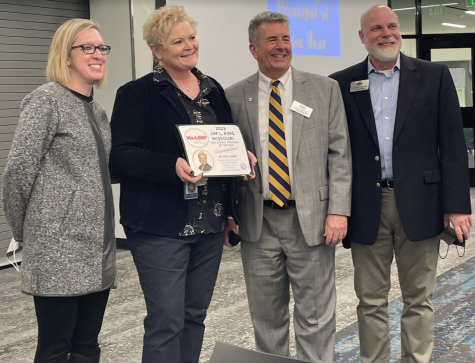 Out of all principals in the state of Missouri Dr. April Adams was given the award of Principal of the Year on Feb. 16 by Clark Mershon who presented it to her.
Adams was told she was needed immediately, due to an issue in the View after school was released. She had just finished a meeting about staffing and budgets when she was informed to come down. To her surprise, instead of greeting conflict, she was welcomed by the drum line outside the door, when she walked in she would find herself in a room with staff and faculty, the choir, even her family who couldn't attend on a big pull down screen and many others. Assistant principal Sara Wickham was also there to congratulate Adams.
"You are an incredible mentor, friend and boss," Wickham said.
After Adams arrived, the room was filled with the sound of clapping as she looked teary eyed, where she was informed of the award. Staff kept her busy all day.
"
You are an incredible mentor, friend and boss"
— Sara Wickham
Adams expressed she was extremely overwhelmed but joyful as well. Her tears of happiness were enough to fill the room with a strong feeling of pride for her accomplishment. Though she had not been expecting this award, she had prepared previously for the posibility to receive it. Adams was nominated for the Greater Kansas City Principals Association for high school principal of the year and that allowed her to be a candidate to apply for the Missouri State Principals of the Year award. She went through the process of the application which was a series of essays, letters of recommendation and evidence of her leadership.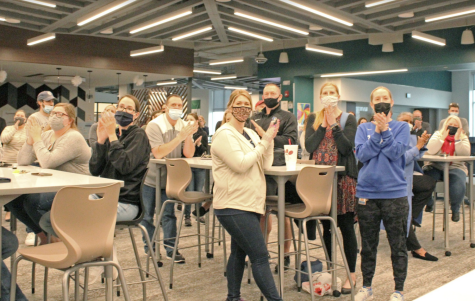 "We are where we are because we are here together," Adams said. "You make me proud. I know there are so many administrators who are deserving of this award. We are an incredible school."
Now that Adams has received this award she will go on for the possibility to compete at the national level further into this year.
Leave a Comment