News Brief: the Vaping Epidemic
An Update:Vaping grows in danger.
In our September issue, The Bell investigated vaping and reported six deaths nationwide. As of Jan. 14, that number has grown to 60, according to the FDA. And the number of hospitalizations has grown too, to nearly 3,000 cases of e-cigarette and vaping-related lung injuries. EVALI is the lung disease scientists have linked with vapes and e-cigarettes containing THC, a derivative of marijuana. In September, school nurse Becky Kovac said she was seeing students in her office for vaping related symptoms.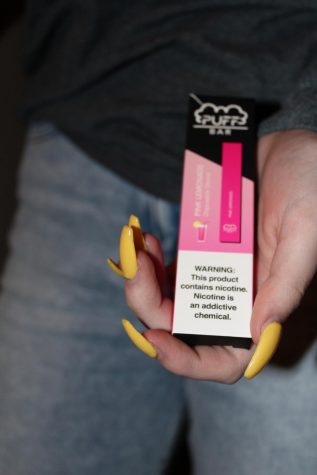 Cases have now been reported in all 50 states, according to the FDA. Of those 3,000 hospitalizations and 60 deaths, they came from 27 states. The FDA continues to discourage people from vaping or using e-cigarettes that contain THC.
The FDA also raised the legal age to purchase tobacco products from 18 to 21 on Dec. 20, 2019. This includes cigarettes, e-cigarettes and vapes.
"Whether or not children continue vaping is important — the longer and more frequently you vape, the more you're exposing yourself to toxins in e-cigarette aerosol and put yourself at risk for nicotine addiction," director of the USC Institute for Addiction Science Adam Leventhal said in a study done by Science Daily.
In a study done by Science Daily in October 2019, scientists showed that people who use e-cigarettes with flavors are more likely to continue doing it. Nearly 65% of teens who used the flavors continued vaping, while only around 43% of teens who used traditional flavors such as tobacco or menthol continued.
"Regulations that reduce youth exposure to flavored e-cigarettes may aid in preventing young people who try e-cigarettes from becoming long-term e-cig users, and also from inhaling more of aerosol into their lungs," Illinois Senator Dick Durbin said in a New York Times article related to the study.
"Any serious solution to skyrocketing rates of youth e-cigarette use must include the removal of kid-friendly flavors, not just the tobacco industry's preferred policy," he said. "Regulations like these could also encourage millions of U.S. adolescents who already use e-cigarettes to quit vaping, especially if they can no longer access e-cigs in the flavors."