Happy Haunting
Students have strong opinions about three Haunted Houses.
It's fall. That means it's time for students to get their scare on at Worlds of Fun Halloween Haunt. Hands down, the haunted houses are students' favorite spots.
According to a student poll, the three most popular haunted houses are Blood on the Bayou, Cornstalkers and Zombie High.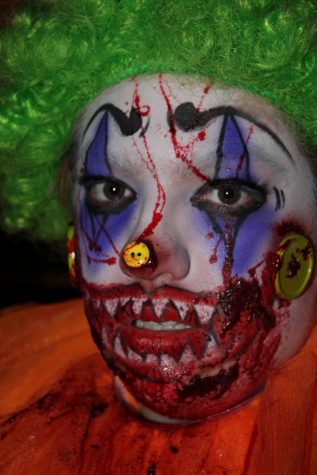 Blood on the Bayou offers a Louisiana swamp ambiance with all the staples of the bayou. Reptiles, narrow pathways and a voodoo omen leaves this house with a strange vibe not quite matched by any other house.
This is the old Victorian home that may be frozen in time but is a wild ride through the night.
"It honestly was really scary," sophomore Brennen Crowley said. "The anticipation built up for it was really fun. When you get in there, they really try to make you scared. It was cool to see all the big props, especially the big alligators and snakes."
The house leads to a not so subtle end with a giant alligator head snapping at your body.
On the other hand, Cornstalkers offers a different experience.
Feral psychopaths creep around dark lanes and narrow paths, and merciless people of the corn jump out at every corner. It's no wonder it was rated LHS's favorite scary experience.
"I consider cornstalkers one of my favorite haunted houses because of how close the characters are towards you and the fact that it all is very tight and you're walking down a straight narrow path," senior Jimmy Lam said. "You have people that blend in very well with the wall. You can feel your way out but you can't see them so they jump out at you. They disappear into the corn and then hop out somewhere else so you literally have a maze where people are hiding in the corn."
Other students at LHS agree.
"You're walking through a corn maze throughout the whole thing," sophomore Elle Evans said. "There are points where it's kind of tight and you have to squeeze through. Other times you're in a big open area like a field."
The third top choice among LHS students is Zombie High, themed around a high school. Walking through the house, a few key sensory details stand out.
"I like to go with all my friends and have that experience," freshman Avery Cleek said. "I like how zombies jump out at random times."
The house moves in a zigzag formation and the props are designed as typical zombie clichés like hands, arms and other assorted limbs.
"I like all of them but I just think it's the most fun one. It's cool to see how the high school is all haunted," Cleek said.
Although a main focus, haunted houses are not the only attraction at Halloween Haunt. For people who don't  like to wait in lines or want to focus on the rides at Worlds of Fun, scare zones are their best option.
Worlds of Fun offers scare zones in the form of Hexed, a witch-themed zone, Outlaws Revenge, a spooky cowboy experience, Peter Peter Pumpkin Eater, an eerie pumpkin vibe and the Boneyard, a goblin filled terror.
Halloween Haunt also offers multiple theatrical performances such as Overlords Awakening, Haunted Homecoming and the Skeleton Crew.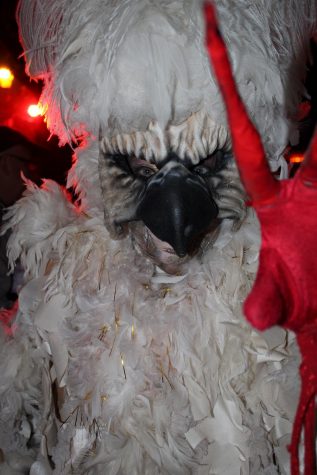 The Overlords Awakening is where all the actors form a parade and move through the park. This is a great way to see all the different characters and the haunted houses in which they reside.
The Skeleton Crew is a band of acrobatics who perform on the International Plaza stage.
Last but not least, The Haunted Homecoming is a theatrical performance complete with dance numbers, music and audience participation.
Worlds of Fun's Halloween Haunt has something for everyone, from different haunted houses to scare zones and live performances. It's fun that family and friends can enjoy.
Haunt runs on Fridays, Saturdays and Sundays through October 26.