Year in the Books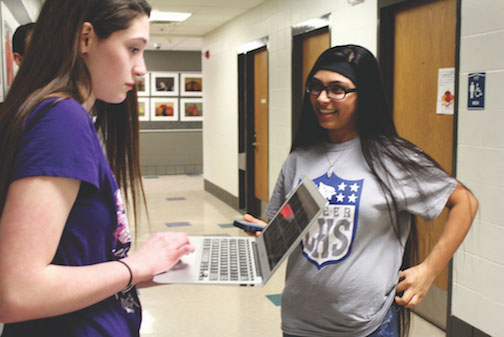 The task? Take the stories of 1,800 people and fit them onto 300 pages. Who does this better than the 46 members of the Spectator Yearbook and Photo Journalism? On April 6, yearbook members will travel to Seattle to attend the National High School Journalism Convention along with the KLHS and newspaper staffs.
"I'm looking forward to seeing Seattle since I have never been there before, but I am also excited to better my skills so I can come back and use them towards our own book," sophomore Joslyn Thieme said.
Yearbook members will be there for four days to learn about designing and writing as well as having fun exploring Seattle. There will be classes taught by professional journalists or designers at the convention, as well as sight-seeing at attractions like the Space Needle.
"I'm just really excited to go to the west coast because I've never been over there," junior Sierra Hubbard said. "I think it's going to be a really cool experience with everyone. I'm just excited to meet people from everywhere. I want to get better with yearbook."
Along with the convention in Seattle, The Spectator will also make the trip down to Mizzou to attend J-Day on March 29. This is more of a statewide convention as opposed to the national convention in Seattle.
"I just love seeing the work of student journalists from across the state being celebrated," yearbook teacher Jessica Cordonier said. "I think that often we are the people behind the scenes and we like to tell other people's stories, so it's neat for us to say 'this is what we're proud of, this is the work that we do.' It's neat for people to be as geeky about it as we are and for them to recognize 'hey, you do great work too!' I just love J-Day."
Yearbook Interview   Along with classes to learn about journalism, design and other aspects of yearbook, there is an awards ceremony at the end to recognize the work submitted. All of the schools at the event attend the ceremony so Liberty schools get to celebrate with other Missouri state schools.
"The best part is the awards because not only do we get to represent the LHS yearbook but we also get to see KLHS there and newspaper," senior Danielle Koger said. "We get to see Liberty as a whole get represented pretty well."
To win awards, advisers submit the best stories, design spreads, photographs and more to state in order to be judged. With the awards, the yearbook has set a few different goals.
"I'm really excited to see what awards the spreads that we are submitting are going to win," sophomore Ellie Magera said. "I'm really excited because Kinsley and I designed a lot of them this year. We had a big hand on most of the spreads we're submitting so I'm excited to see what they win."
Cordonier had a different take on the goals for yearbook as a whole. Her goal is much broader and less specific.
"I want to build a yearbook for students and by students," Cordonier said. "Our goal is to go have a good time and be proud of the work we've entered. If we win then it's great and if we don't, we don't."
After all of the hard work already put into the yearbook this year, J-Day and the Seattle trip are an extra boost for the rest of this year, plus a head start for the planning of next year. They also provide an opportunity to build friendships with other journalists.
"I think the more experience you have, the better of a journalist you are," Hubbard said. "I think it's going to be gained information. The longer you do something, the easier it gets for you. I think it's going to be a learning process."