The Blue Jay Marching Band and Guard visited six elementary schools on Sept. 12 and 13 to get younger students interested in the music and flag programs. The groups went to EPIC, Manor Hill, Lillian Schumacher and Shoal Creek on Tuesday while they visited Alexander Doniphan and Liberty Oaks on Wednesday, concluding the two day tour.
   "I think it's important because it gets the kids interested and excited for band," junior drumline member Lincoln Hare said. "It also lets them know more about the program and some of the things they can get involved with."
   The tours are an annual event which have occurred for the past nine years to gain interest from potential prospects, with a broader goal of getting the kids involved in extracurriculars as they transition into middle school.
   "The atmosphere was amazing and everyone was having a lot of fun enjoying the music," Hare said. "I think they really enjoyed the performances even more when they were able to conduct the band themselves."
   During the visits, the group performed their pregame routines and the fight song while the band demonstrated their instruments to the spectators in attendance.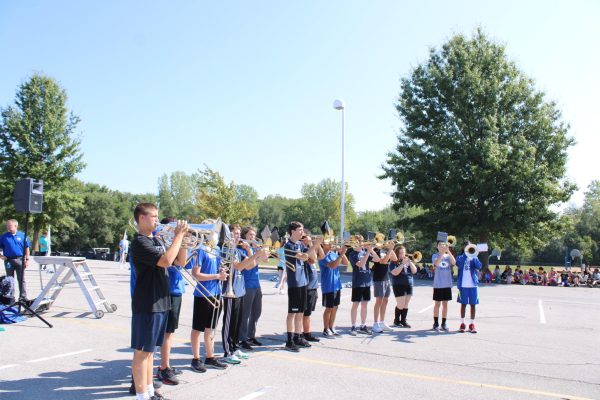 "The visits expose the students to one of the many opportunities they have in Fine Arts," Band Director Eddie Owen said. "When I was in grade school, the band visited and that's why I joined as a fifth grade student."
   The Pride and Guard will perform at every home varsity football game during halftime and pregame until the season is over in late Fall. When the football season concludes, the band will begin their concert season while guard will start their indoor winter season. To keep up with the band and guard, the band has their own Instagram account @bluejay_pridebands and the guard account can be found @lhsbluejayguard.