Love and History
How LGBTQ+ History Month affects students and faculty.
    Wind blowing flags. People smelling sweat and desperation, all different: yet the same. Hearing cheers as hundreds of teens push their way through a crowd. This is what it's like to fight for a cause. A cause many people in the LGBTQ+ community have fought for their entire lives. And many students stood up for on, Apr. 30, on the field. 
Nikki Duncan, counselor and sponsor for the GSA(Gay, Straight, Alliance) club educates and welcomes those interested in celebrating gay and straight individuals. The club was first started by Duncan in 2016, and meets every week during Connect 30 as a way for students to socialize and have a safe space to tell stories and get to know each other. October is LGBTQ+ history month and was initiated in Missouri by teacher Rodney Wilson at the University of Missouri in 1995.
"I think being out and being open is a bigger trend now because people don't look down on you so much for being who you are," Duncan said. "So, while years ago it might have felt like someone  could only be themselves in a certain group, but a lot has changed. A lot of people don't know or know GSA is a thing, now they do, which is really fun." 
Not everyone knows or is informed about LGBTQ+ History Month, but being respectful towards the subject is important as the month is used to celebrate the history of the LGBTQ+ community. 
"People don't always necessarily know everything, and it's not exactly a person's job to teach you everything," Duncan said."One thing we're going to be doing in October is putting posters up of famous people who have contributed to LGBTQ+ history. I think other ways people can support vary, like if you're an ally and someone is saying something not very kind to the LGBTQ+ community, you'd step up and say, 'hey that's not okay,'' Duncan said.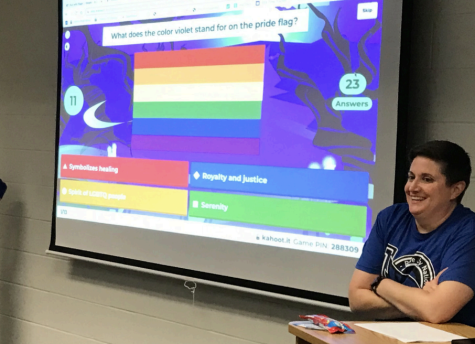 GSA club takes the time to educate and welcome members or allies of the LGBTQ+ community. They understand it's hard to be open and honest about being a part of the community, sharing their experiences, spreading knowledge and representing themselves are all aspects they take pride in as a group. 
"Everyone was very welcoming at the GSA club and they were very sweet," freshman Addison Moppin said.
Everyone's journey to the community may be different, whether it be welcoming or judgment. Moppin joined the club to share her own personal stories, however, not everyone feels comfortable sharing their stories.
"I know being a part of the LGBTQ+ community is sometimes difficult to accept, especially in a world where sometimes people don't listen or like you for who you are and where you need to follow certain norms throughout life (like being straight). I also know being gay is also difficult because some people won't like or accept you," sophmore Elliot Vogelaar said. 
Being told that someone is different or unusual because of who they are is not an uncommon occurrence. As well as the factor that not everyone in the community has access to good counseling, or a place to express themselves. According to the Gay, Lesbian & Straight Education Network's (GLSEN) national climate survey, more than 87% of LGBTQ+ students experience school bullying and harassment. The GSA is trying to help with that by making students feel more welcome and allowing them to share their stories and experiences. 
"I think that it's like everything else where our world is changing in a good way, and becoming more inclusive and more diverse. No matter what the population is, I think that we have a lot to learn from each other." Duncan Said.
 "Being a part of the LGBTQ+ community was disrespected for such a long time, and it really needs to be talked about more. I feel like it's really overlooked," Moppin said. 
LGBTQ+ History Month may be disregarded but clubs like GSA focus attention on celebrating the identity many people align with, even those in your own school or community.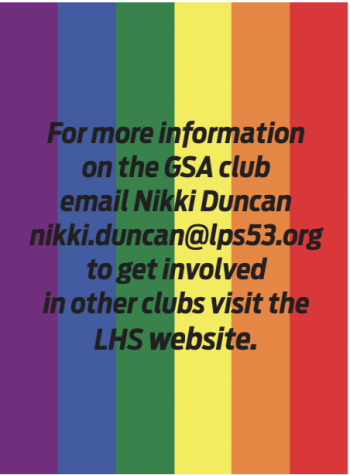 For more information on the GSA club email Nikki Duncan [email protected]
Leave a Comment