Unlocking New Doors
Key Club welcomes a new sponsor as the school year begins.
   The adrenaline hits as you begin to enter the door. Fresh new faces never seen before and maybe even a few familiar ones. At the door being greeted with warm smiles and new awaiting experiences is excitement in its finest. This is what it is like to join a club.
   There are many clubs and one of the more popularly joined is Key Club. Students give back to the community, and after 20 years of sponsorship, Discovery Middle School social studies teacher Erin Garvey has decided it is time to hand off her role in Key Club as they welcome Spanish teacher Astrid Ruiz who will be taking over that role.
   "I am not going to be teaching full-time next year. I want to make sure that Key Club gets the attention it deserves as a premier club. We have over 150 members, and I have several juniors that will help guide the new sponsor in her first year," Garvey said.
   As Ruiz takes over the role of sponsor she will continue to remain a part of the Spanish Honors Society as well. When she heard that the role needed to be filled she decided to take up the opportunity.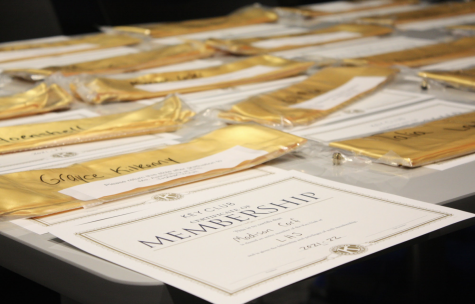 "Before I decided to take over the role, I started looking at what the students were able to do. They were always giving back without asking any questions and that is something that I knew I wanted to do," Ruiz said. "It is a very overwhelming and humbling feeling because they do a lot for the community, and I don't think everyone understands how much, so when I took the role I was able to learn more about it."
   Sophomore Kaylen King has been a part of Key Club for one year and met Ruiz through a project she did in EDGE.
   "She is a wonderful person. I have no doubt she will be a good leader," King said. "She may need help with it being her first year to get on her feet, but I have 100% confidence in her that she will lead amazingly."
   Key Club is not newly founded. In fact, the club was internationally founded in 1925 and was brought to the school in 1993.
   "I wanted to be a part of the club because I was a leader in my high school's Key Club and knew a lot about it. I also value community service and want to pass that on to future generations," Garvey said.
   Throughout her time as club sponsor, Garvey wasable to be a part of many projects, her favorite was the Snack Pack project, an idea created by a past member that has been growing ever since. Currently the club gives 17 bags of food per week to food-insecure students at the Liberty Academy. They fundraise, donate and pack all the food themselves and there is even a food pantry at the school.
   "My favorite part is interacting with my students at the service projects. We have a blast. and I feel like we laugh the entire time," Garvey said.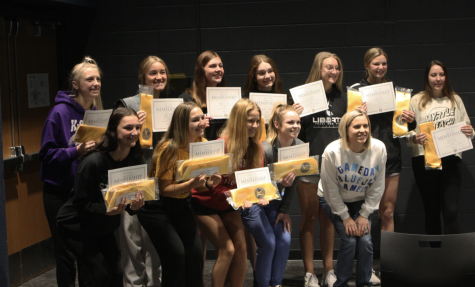 While in middle school, King was a part of Builders Club which Garvey also sponsored. This club was similar to Key Club, but for students who weren't in high school. She was part of this club for three years and built a connection with Garvey.
   "It's really sad to see her go. I had her as my social studies teacher in eighth grade. She is an amazing teacher and leader, so I'm sad that she is leaving," King said.
    Garvey has impacted many people during her years of teaching and sponsoring Key Club.
   "We appreciate her 20 years of serving this club, with her dedicating almost half of her life to this club. She has touched so many hearts and lives and led by example, which is something I hope I can also do," Ruiz said.
   Farewell messages for Garvey have already been thought of as King finds a way to put into words what she would like her to know.
   "Ms. Garvey has been one of the most influential people, during my middle school experience. She is such an amazing person and leader. I wish her luck in whatever she does," King said.
For more information on Key Club and what they do visit the link here.
For questions any questions about clubs [email protected] in the counselors office can help
If you have any other questions remaining contact Garvey or Ruiz at their email addresses: [email protected] [email protected] 
Leave a Comment