Get Red Carpet Ready
A look into what prom will look like and how students can save money on all prom necessities.
   Makeup on, hair done, dress and heels with a handbag in clutch. Hair gelled, suit on, tie knotted, dress shoes slipping on under a pair of freshly pressed dress pants. The glory and popularization of prom through movies and shows create a picture-perfect scenario. Student council works to provide so each student will receive the experience they have been wanting to experience for such a long time. 
   Prom will be held at Arrowhead Stadium, 1 Arrowhead Dr, Kansas City, MO 64129, It is a formal attire dance and will be held on Apr. 30 from 8-11 P.M. Ticket prices are still being determined but are estimated to be around $30 per student. Prom is for the junior and senior class. Each student may only receive two tickets which includes their choice of soda or water to drink. As of now, the guidelines for COVID-19 are not completely clear but are assumed, due to current mandates, it will be a mask optional event.
   This year's theme will be Meet Me at the Met [Gala] so strap on those shoes and get red carpet ready. To accommodate this students will dress in formal attire as if they would be attending a red carpet event.
   The prom committee thought this theme would stand out the most. Then, the prom committee voted on which idea they liked most out of the Met Gala, cottage-core, 70's disco and night at the museum. This year's theme was originally pitched by junior class president Nico Vargas along with a few other students in his group.   
   "This theme was actually the idea I pitched with some other students and it got voted, which was really cool," Vargas said.
   Decorations have not been finalized, but they will have a fancy look to them to go along with the theme. Student council must be creative in order to come up with the needed ideas for the decorations since they are not allowed to hang anything from the venue; it all has to be free-form. 
   "I'm really excited for the decorations and I also think it will be really great for photo opportunities," Vargas said. 
   Prom is hosted by Student Council, but specifically the junior class of 15, in years previous it had always been just the Student Council until 2020 when it was opened to anyone in the junior class that wanted to help host.
   "It's always a really fun night and getting to see everyone dressed up is awesome," Student Council Advisor Leslie Muench said. " It's nice to see how excited they are to be there. Since there are less people than at homecoming. It's easier to mingle with them which is also nice." 
"
It's always a really fun night and getting to see everyone dressed up is awesome."
— Student Council Advisor Leslie Muench
   Some students have already started preparation for their prom including senior Lindsey Bahr who has already picked out her dress for this year's extravaganza. It is a long, v-neck, open back dress in a shade of a purple-blue covered from head to toe in sparkles, which she plans on matching with her date's outfit.
   "I'm looking forward to seeing all my friends and having fun at Arrowhead Stadium," Bahr said. "I don't have a big plan, but I'm hoping it will be a good night regardless."
   Prom is an event put in place to create a memorable experience for upperclassmen students. Purchases of items like their tickets, dresses, suits, shoes, jewelry, dinner, limo rides and so much more spike during this time. With the buying of these items comes a hefty price, according to DoSomething.org for all these things, on average, students spend over $1,100. 
   This of course is not ideal for everyone and there are many ways to save money such as reusing a suit or dress from a family member or friend, thrifting a dress or checking clearance racks at a store like Dillard's for example, getting ready at home with friends instead of a salon, renting a cheaper party bus instead of a limo, or even doing DIY corsages with friends an instead of going out to eat, everyone in students prom group could make something and one person can host a huge pot-luck where each person of the party can bring a different dish to put together for the big dinner.
   "Prom can get pretty expensive with the outfits, food, tickets and more," Bahr said. "I think it's definitely worth it in the end, but it's also always nice to be able to save money and still have fun." 
   Another common event is the after party, most students spend a lot of money on food and drinks and throw a huge party at one of the students houses, this isn't for everyone though.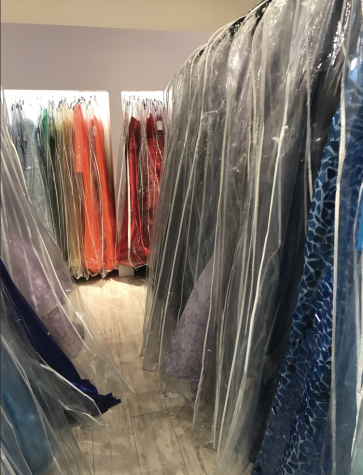 Students can also have a fun, lowkey night after prom with a cozy night by the fire, snuggling up with blankets and making some delicious smores. Another option to try would be going out and playing a team competition between the group whether this be a game of football, soccer, mini golf or bowling in places such as Parkville Mini Golf which is 10 per person over the age of 11 or bowling at Main Event which is about 40 per person including shoes. In the end, it is good for students to know there are options for pocket friendly alternatives that way all students have the opportunity to have a good time regardless of their budgets, there is flexibility of ticket cost if help is needed with cost students can reach out to their counselors for help.
Leave a Comment