Rhythm and SOLE
SOLE Crew Step team is a unique new addition to LHS.
"One, two, three, four, five, six, seven, eight," SOLE Crew Step team chants in unison. The members of SOLE Crew move as one as they rehearse the dance routine they have been working on. Members laugh as they engage in an assortment of kicks, turns and complex movements. Their smiles grow wider as they progress through the routine, and they applaud as members experiment with possible moves to add to the dance.
This is just another meeting of SOLE Crew Step team, a new dance group at LHS. They dabble in a variety of dance, including step, hip hop and stroll.
Though practices have had to discontinue due to COVID-19, SOLE Crew is still going to pick up meetings at the beginning of next year.
"We are pretty disappointed that we are unable to meet and practice. However, we completely understand the need to be safe," c0-sponsor Trilaina McCallum said.
"We really just wanted to bring a new element to Liberty High School, so we started the team to see where it would go and what things we could do with it," co-student leader of SOLE Crew senior Victoria Southall said.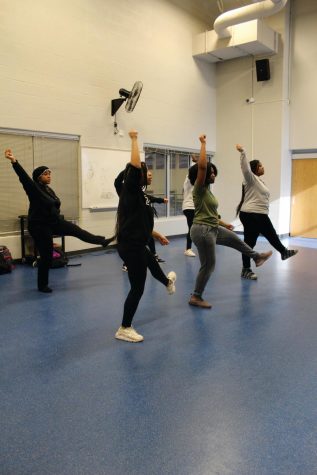 LHS has never seen a group quite like this, which is part of why members believe it to be so unique.
"I think it's so special because it's different," Southall said. "We haven't really seen anything like this done. We get to show a different side of ourselves to Liberty High School, something different."
Sophomore Myka Jones has a similar perspective on the matter.
"We have never had a step team at Liberty, and I think it gives [the school] more diversity," Jones said. "It's important because Sapphires is such an elite group, and cheerleading is elite, so if you are not in one of those teams you still have a place to go if you are really into dancing and choreographing."
During their weekly meetings, the crew choreographs and practices their dance routines. Jones recalls a moment when the routine wasn't quite matching with the music, but the group problem-solved.
"We tried to add some music and the music wasn't lining up great," Jones said. "Instead of just giving up we were like 'OK, what can we do? We could speed it up, we could slow down this part,' I liked that."
McCallum enjoys seeing how the members of the group work together, and the progress they make at each practice.
"I enjoy being able to witness the creativity and collaboration between all the members and the light in someone's eyes when they get a particularly challenging piece of movement," McCallum said.
The club hopes to expand and gain more members. Southall would like to see the group performing at assemblies.
"We want to do a little three-minute performance just for everybody to see what we have been working on and what we have been doing," Southall said.
Members urge students to give the team a try. Junior Saweit Craig has a message for anyone considering joining the group.
"SOLE crew is a group for anybody," Craig said. "We all come together and make up step routines and we just have fun. It is a group to be yourself and have fun. Try something new, you might like it."