The Journey of a Lifetime
Senior Rita Momue describes being a foreign exchange student from Liberia.
Snow falls in sheets, covering the ground and forming an iridescent layer. While many students take snow totally for granted, or as only a way for school to be canceled, senior Rita Momue watched in awe from the window of her new home. This was her first snowfall.
In her excitement, Momue said she rushed outside without even putting on a jacket or shoes. She took a tentative first step into the snow-covered grass, the cold biting her bare feet. She said she picked up her first handful of snow and just marveled.
"We don't have snow in my country, so it was my first time to see snow and I was so excited," Momue said. "Usually we just watch movies about America and people in snow, but we don't get to see snow and touch it."
In August, Momue flew away from Liberia for the first time. She was beginning a journey that would change her life forever: becoming a foreign exchange student at LHS.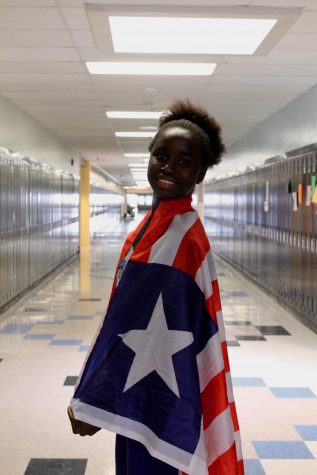 Momue's desire to become a foreign exchange student filled her with both excitement and anxiety.
"I wanted to know a new part of the world, and to come and live here and get used to the American culture," Momue said. "I was kind of nervous because it was the first time leaving my family to go somewhere else. I was also excited because I was going to a different place to experience a different life."
Since starting the school year, Momue has noticed many differences between schools in Liberia and here.
"Mostly, I'm not used to shifting classes, so it was hard for me to look for my classes here," Momue said. "[In Liberia] we stay in one classroom and our teachers come to us. Also, we don't use laptops or computers back home and we have to wear a uniform to school. Basically, we have the same courses, but they're a little bit different."
Food is another significant difference between the two countries. In Liberia, Momue said rice is the main ingredient in most dishes, and food is cooked fresh every day rather than using refrigerators and freezers to preserve it. She has decided her favorite American food is cheeseburgers.
Junior Jordyn Pritchett, Momue's host sister, has enjoyed getting to know her and being exposed to a fresh point of view.
"It's really nice to figure out new things from where she is from and to talk to her and try to figure out a different perspective on things," Pritchett said. "She is really nice and outgoing once you get to know her."
Momue's chemistry teacher Elise Carpenter enjoys having her in class.
"It's always interesting just to have a different perspective on life and how students are raised, and how not everyone comes from Liberty or the same setting," Carpenter said. "It's good to have diversity and different backgrounds. Rita is motivated and cares a lot about her grades. She also does a good job of asking questions when she is struggling with the information."
Outside of school, Momue has joined her host family's church choir and youth group. She is learning to play the piano with the help of her host dad. She plans on joining the track team this spring.
Momue will return to Liberia in June, where she will attend one more year of high school. She hopes to continue her education into college and become a doctor.
She has advice for anybody considering the foreign exchange student program.
"You need to try it because it doesn't matter if you are from a different country or continent, what matters is that you should go and live in another culture to learn about it," Momue said. "We should not have stereotypes about different areas, you should go and see the world for yourself."