Behind the Scenes
Students run all the high school sporting events.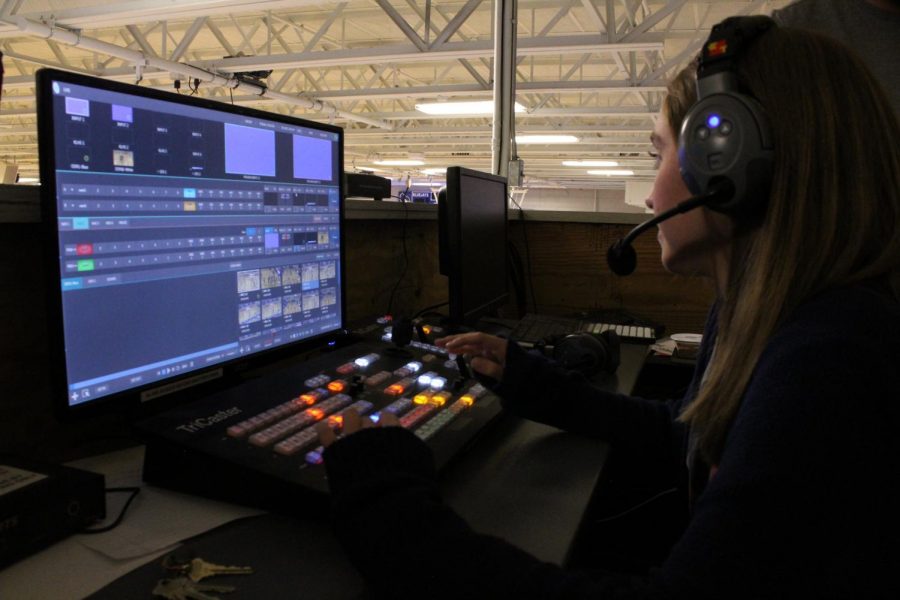 Cameras point to the wrestling gym as flickering lights swirl around. Music booms into the stands full of students as the wrestling team storms the mats.
This is the scene the sports entertainment marketing crew sets at every home sporting event from wrestling to football. It is a year-long business class to help students develop a complete understanding of the marketing concepts and theories that apply to sports and entertainment events.
Many students wonder how to get into the sports marketing crew. It all starts in the beginning sports marketing 1 class.
"Sports I is the preparatory course, sports entertainment marketing teacher Natalie Craig said. "They are really learning what marketing is and how it differs between sports and the regular marketing industry. They don't get any of the hands-on application, they just observe one event throughout the semester so that they can really see what they would be getting into if they continued into Sports II. They are just getting the base knowledge, where it is run as a traditional class. Whereas, sports II and sports III are the student lead courses."
Sports marketing II and III are student-led classes where students have more responsibilities than usual classes.
"We usually use two days of class time to prepare for athletic events, but sometimes it takes more depending on what it is, like the Homecoming game, it took all week," senior Raeli Howerton said. "Working football requires about five hours of your Friday night where you can't be in the football stands and you have to work as a crew member." See the business and sports marketing class schedule.
Fellow senior Alyson Boldt confirms all the behind-the-scenes work.
"We basically produce all the athletic events, so we run the cameras and the board," Boldt said. "We also promote them with posters and graphics. We control all the giveaways we have during halftime, the screen and all the cameras."
Sports marketing doesn't just run the cameras, big screen, music and graphics at sporting events, they also take on many other responsibilities outside of working games. The LHS activity complex and field house are sponsored by companies such as Hyvee, Liberty Hospital, Gary Crossley Ford and many more. The sports II and III students handle communication between the high school and the sponsors.
"Sponsorships are definitely one of the larger parts of the program, so the students are working individually with a sponsor of their choosing," Craig said. "They are communicating with them through email, reviewing their contract, putting together a quick presentation and then going to meet with the sponsors to let them know this is what the contract says for the upcoming year."
The classes are not organized like most classes. Students break into groups and have specific goals to accomplish. These groups include the graphics, game production, promotions and social media teams.
"I'm part of the social medial team. I'm in charge of making sure social media runs smoothly and we're getting our promotions out," senior Quinton Welch said.
Other groups take care of the game-day graphics, preparation for sporting events, posters around the school and creating unique pregame/halftime contests.
Sports marketing is unique and has grown in recent years to be an important part of LHS athletic events.
Howerton likes how sports marketing is different from other classes.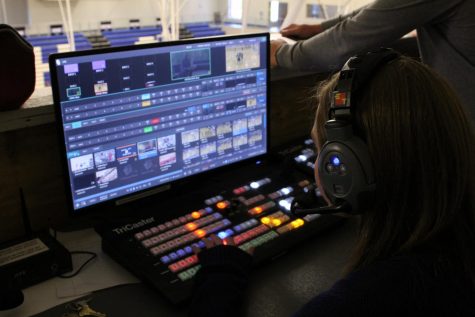 "It's not just sitting there and getting lectured," Howerton said. "You get to do hands-on work. Sports marketing is necessary because you need people to be in charge of the equipment and know-how to use it properly, otherwise, it would be a mess."
Craig believes the class is preparing students for the working world.
"Having content knowledge before going into college definitely puts you above peers who didn't have those kinds of experiences and makes it that much easier to get a professional job in the industry which is so competitive in general," Craig said.