International Dreams
Two foreign exchange students share their stories.
Maria Eduarda Pelegrini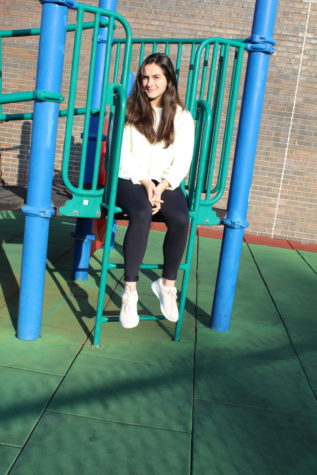 For most seniors, walking through the front doors on the first day of school isn't scary. But for senior Maria Eduarda Pelegrini, it was unlike anything she had ever experienced. Palms sweating, her backpack a weight on her shoulders, Maria walked up the front driveway of LHS. She opened the doors and walked inside and her breath was instantly taken away. She could not believe the amount of students there were.
After getting over her initial shock, she started the walk to her first class, prying her way through the mob of students. As she walked by, she picked up several snippets of conversations, all of them mumbling together in nonsense. She smiled with excitement. It was the first day of her senior year, and she was in the United States, finally fulfilling her dream of being a foreign exchange student.
"I have a lot of plans for my future, and I felt like the exchange program would be a good thing," Pelegrini said. "I really wanted to learn about American culture and the language. It was always a dream."
Football games were an instant hit for Pelegrini. Having never seen one, as soccer is the main sport played in Brazil, she found instant enjoyment when attending her first game. Sports are only a small difference between the schools in Brazil and in the United States.
"In Brazil, we stay in the same class during our whole life, so the teachers come to us and we studied with the same students," Pelegrini said. "Here this school is easier than Brazil. In Brazil you have to take 15 subjects during one week."
Pelegrini is trying to make the very most of her time at LHS by joining several clubs and trying out for the basketball team. She is also joining choir next semester. She was pleasantly surprised by the variety of classes LHS offers.
"The classes here are incredible," Pelegrini said. "In Brazil we can't choose what we want to study, like music."
In particular, her Intro to Fashion class is one she enjoys. Her teacher, Shannon Jensen, has appreciated getting to know her and teaching her.
"Maria is a good student because she is kind and helpful with her peers and she is conscientious about getting her work done and doing it correctly," Jensen said. "She is never afraid to ask for help if she needs it."
Music is another staple in Pelegrini's life.
She plays three instruments, including the ukulele, guitar and the piano. She brought her ukulele with her all the way from Brazil.
"I started to like music when I was a child," Pelegrini said. "I've always been involved with the arts, but music is my favorite."
Pelegrini doesn't have any host siblings that live with her, but her host mother's granddaughter, freshman Karlee Ensor, doesn't live far from her. They enjoy spending time together and getting to know each other.
"I have really enjoyed getting to know Maria and hanging out with her," Ensor said. "From what I have heard of Maria's culture, it has been interesting and fun hearing what's different from ours."
Pelegrini urges students to step out of their comfort zone and talk to someone they wouldn't usually, something she thinks is very important.
"I think that trying to talk more with people and making more friends is good," Pelegrini said.
Ilaria Di Nubila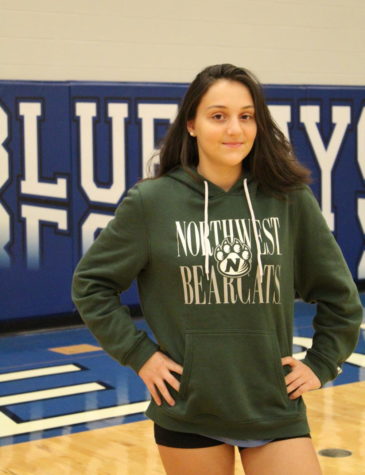 August 9 will be a day that will go down in history for senior Ilaria Di Nubila. Kissing her family and friends goodbye and leaving her home country of Italy, Di Nubila arrived in the United States. After almost two days of flying, taking a flight from Rome to Detroit, Detroit to Dallas and finally, Dallas to Kansas City, she was extremely exhausted and scared.
When Di Nubila arrived in Kansas city, she was terrified. She got off the plane, got her luggage, checked in and walked into the hall where her breathing began to quicken. She had talked to her family over video, but had never met them in person. She was worried about what they would really be like and what they would think of her. She turned the corner, where she found her host family waiting for her with a sign that read, 'Welcome to our family Ilaria.' They greeted her with large smiles and loving hugs, and the nerves she was experiencing flew out the window, overpowered by excitement.
"I immediately felt like a member of their beautiful family," Di Nubila said. "For a while I wasn't so tired and I forgot all the hours without sleeping. I looked forward to meet them and, finally, there they were."
Being a foreign exchange student wasn't something that Di Nubila just decided overnight; it had been in her head for years.
"This is a dream that I have had since I was 13," Di Nubila said. "The idea of going outside of my country and doing a year in another country was an idea that was really fascinating for me."
Di Nubila instantly found her place at LHS, joining lots of clubs, including FRESH (Finding Reasons to Exercise Safe Habits), Breakfast Club, Diversity Council and Spanish Honors Society. She is also planning to try out for the basketball team this winter.
The assortments of clubs LHS offered surprised Di Nubila, as it is different in Italy.
"Here there are more activities during school, like clubs and after school sports," Di Nubila said. "I like this type of life and being a student."
Another activity Di Nubila enjoys is watching football. She especially enjoys the atmosphere of the games here at LHS.
A big difference she has discovered is the food, and it is one of the things she misses most about Italy. Not only is the food here different than in Italy, but the times Americans eat are different too.
"In Italy we have breakfast at seven or eight o'clock, lunch at noon and dinner at eight o'clock. It is different here because people eat whenever they want," Di Nubila said.
School is another big difference for Di Nubila. She thinks American schools are significantly easier. The differences between the schools were one of the first things Nubila noticed when she started classes at LHS.
"In Italy, we stay in the same class for the entire day and we have the same classmates for all five years," Di Nubila said.
Di Nubila's host family has helped her adjust to the United States by showing her around Kansas City on the weekends. One of her favorite places they have shown her is Worlds of Fun. Her host sister, sophomore Jordyn Pritchett has found a friend in Di Nubila and enjoys getting to know her.
"We hang out after school a lot and we talk about different things," Pritchett said. "It's interesting to see different things that they're used to and to be able to just hang out with someone that you're not really used to hanging out with."
Di Nubila speaks three languages: Italian, English and Spanish. She is currently in Spanish 5 with teacher Señora Astrid Ruiz.
"Ilaria is very dedicated," Ruiz said. "She is a good student because she will help others when they need it and she's always asking questions to learn more."
In her time in the United States, Di Nubila has discovered that one of Italy's main perceptions of the US is true.
"We in Italy think that Americans are very competitive, and honestly, I can say that they are," Nubila said.