Freshman Survival Guide
Will I get from one end of the school to 
anot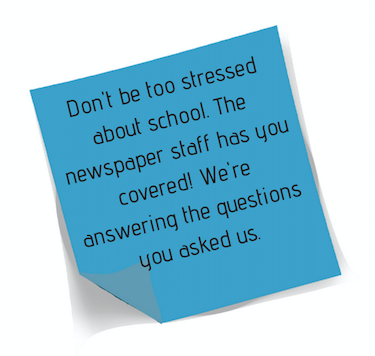 her during passing period?
Five minutes seems like a lot of time, but sometimes you may cut it close. As time goes by it will get easier. Be aware of how much time you need to get from class to class. For example, if you have biology one hour and orchestra the next (opposite ends of the school), there is no time to socialize.
How do I meet new people?
Joining clubs, theatre productions, music classes or sports is a great way to make new friends with the same interests as you. If you are trying to make new friends, step outside of your comfort zone.
Will I eat lunch with upperclassmen?
There are two lunch shifts. The majority of freshmen and sophomores eat during the first lunch shift after third hour. Second lunch shift is mainly juniors and seniors after fourth hour.
Do the upperclassmen hate me?
No! LHS is not like the movies, we will not push you into lockers or beat you up for your lunch money. Students have a plan to make it to graduation and hating the new freshmen is not part of that plan. If you ask for help from upperclassmen, they will help you. Don't be too shy to ask!
How do I get into a club? How many can I join?
Getting involved can be as easy as showing up for a meeting. Some clubs, like Exit-16 and ProStart, have auditions or tryouts to join. Go to the LHS website and click the 'Student Life' tab for a complete list of clubs and requirements. There's no limit to how many clubs you can join, as long as your schedule and homework allows it. Clubs happen before school, during Liberty Hour and after school.
What should I do during Liberty Hour?
If you have homework, do it during this time so you don't have as much to do after school. If you've been absent or need help, go see a teacher. This is also a time when most clubs meet. Don't waste this valuable time! Liberty Hour only lasts for 35 minutes, so spend it wisely.
Pro Tips: 
Sit in the back of the student section at games your freshman year. You will work your way down every year.
Talk to your teachers. A personal connection with your teachers is one of the best things you can do.
Walk on the right side of the hallway and take as many right turns as you can, or you'll create traffic jams.