Not Your Typical TSA
TSA takes their passion for technology to the state competition.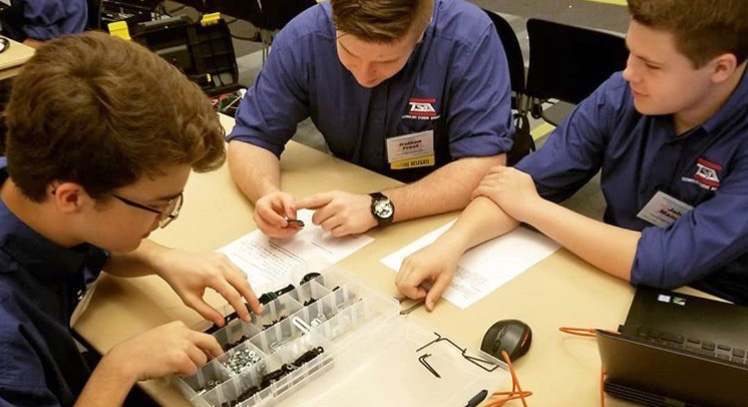 When people think of TSA, they typically envision long lines at the airport where one is forced to put everything they brought on a conveyor belt and prepare to get searched. While LHS's Technology Student Association (TSA) may be different, it's a little similar to the process of being at the airport. For starters, students in TSA work on their projects all year, making it a long process and they are all willing to put everything on the line to compete at the State competition.
   TSA is one of the many clubs for students interested in the STEM (Science, Technology, Engineering and Math) field.
   "It is a club where students who are interested in technology or engineering can pick a project that they work on all year," club sponsor Eniola Ajayi said. "There are different categories students can enter into. For example, there's a fashion design category, a technology children's book category, and more. Then in April, we go to State and compete. The categories are given different prompts that the students have to work off of."
   The State competition took place in Rolla, Missouri at Missouri Science and Technology University from April 22 to April 23. The students who are in the club had been preparing since the beginning of the year.
  "I'm working on System Control and Biotechnology," junior Nathan Frost said. "System Control is where we show up and have three hours to solve the problem that the judges give us."
   With so many categories students can compete in at the competition, it can be difficult to see how they all relate to technology. However, each category has a connection to the STEM field.
  "I typically do the essay category," sophomore Fiona Burroughs said. "You have to write an essay about technology. Last year, the question was 'How does technology affect the new generation socially?'"
   Burroughs, who got first place at the state competition last year and attended nationals, has a different way of thinking about the club.
   "TSA is like a more diverse robotics, in my opinion," Burroughs said. " I think it's important because technology is this generation's future."
   Senior Alexa Smith, president of the club, remembers the time she recognized her passion for the STEM field.
   "I've always loved math and science," Smith said. "I'd also describe myself as a problem solver. I love thinking outside the box and coming up with solutions."
   While there are many preconceived notions about the ratio of men to women within the STEM field, Smith can't remember a time when the president of the club wasn't female.
   "Ratio wise, there are definitely more boys than girls still but as far as being president, all four years that I have been in the club we've had a girl as president," Smith said. "I think that helps bring some in. At the same time the girls who are passionate about STEM are very confident with themselves and their abilities."
   Since the club is voluntary, most everyone is passionate about what they're doing.
   "I like that the club isn't so forced," Smith said. "It's all voluntary, so everyone who is doing something in the club is doing it because they like to do it. It's a club where I feel like you can have hands-on experience with something you might want to do someday."