A Whole New World Part 3
Foreign exchange students find comfort in their new lives in Liberty.
Hang on for a minute...we're trying to find some more stories you might like.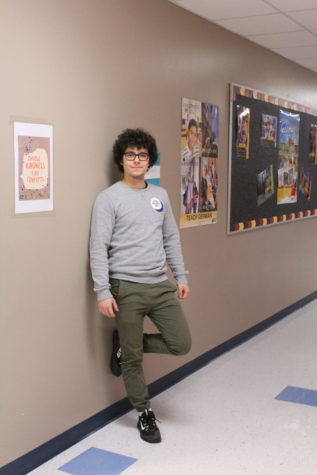 Senior Pierre Meiers is enjoying his new life in Liberty. Meiers decided to travel to 4,500 miles from home to get ready for school back in Belgium.
"My brother was an exchange student, so I decided to do it too," Meier's said. "It helped it him with the transition from high school to college."
Meiers expectation for Liberty wasn't much different than what he thought although the class scheduling was.
"In Belgium, we would have a weekly schedule, here it's a daily schedule," Meier's said.
Along with the class schedule, Pierre also discussed the difference in architecture.
"The buildings here are much more beautiful." Meiers said.
Despite the challenges that come along with moving across the world Meiers frequently communicates with his family during his stay here.
"I talk to my family once a week," Meier's said.  "My mom, dad and to brothers are back in Belgium."
Host brother Carson Badder's has always had siblings so having another brother in his home was not much different. But having a host brother whose first language is not English is difficult.
"I would have to say the biggest challenge of having an exchange is the language barrier at the start but since then it's gotten a lot easier." Badders said.
Meiers is staying with his host brother Carson Badders and the rest of the Badders' family. Carson and Pierre enjoy spending time with their friends.
"I went to Dancefestopia and a Chiefs game with Carson, but we mostly hangout with our friends at each other's houses." Meier's said.
Besides enjoying time with his friends Meiers also is involved in the Technology Student Association.
"During TSA, we have been building model homes," Meiers said.
Meiers still sometimes misses his friends back in Belgium, but is glad to have the Badder's to help with the transition.
"I've met a lot friends through Carson and we hang out at each other's houses." Meiers said. "What I miss most about Belgium is the raves, which are basically like concerts that go all throughout the night," he said.
French teacher Laura Sneed has also helped Meiers.
"Madame Snead has helped me a lot, she explains a lot of information to me," Meiers said. "She speaks two languages so that is really helpful. She also can explain why things are the way that they are."
Having Meiers in class has also helped Snead develop teaching skills, and helped other students as well.
"It has helped me learn more about English, we have been working on correct grammar and parallel structure," Snead said "I've learned that it is very hard to teach your own language."
Since coming to the United States Meier's has displayed many qualities in the classroom.
"He is very fun loving, open to new experiences and generous with his time." Snead said. "I'm impressed with him for spending a year here before going to university."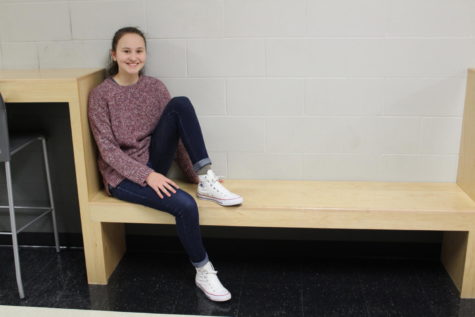 For senior Clara Holmes, new life in Liberty is not what she imagined. Coming from a town of 2,000 people in Germany, she was expecting something much smaller.
"It's a lot bigger than I imagined. For me it's big because I came from a high school with 400 students," Holmes said. "I like being a part of a bigger school, there are so many choices in classes and sports."
Holmers came to the United States mostly because she wanted to learn the language. She sometimes struggles with English but is glad that the teachers can assist her if she doesn't understand.
"All of the teachers are so helpful. I'm very thankful," Holmes said.
Holmes' favorite class is Mrs. Knowles' class.
"I appreciate her willingness to try, she is always asking questions during class and is always trying to make sure she understands which can be difficult, but she is doing very well," Knowles said.
Along with teachers, Holmes has her host family to help with the transition. Her host sister Peyton Fehl is a freshman at LHS. Holmes has enjoyed her time with the Fehls and even got to meet their extended family.
"I got to go on vacation with them and meet their whole family in Texas which I thought was really cool," Holmes said.
For the Fehls, having an exchange student has come with some changes as well. The biggest challenge for host sister Peyton is getting Holmes to wake up for the alarm in the morning. Fehl is thankful for her relationship with Holmes.
"I share bunk beds with her so that helps our friendship grow," Fehl said.
Fehl has a younger brother who was really excited when he heard he was getting another older sister. Having an exchange student has been a really cool experience and they enjoy spending time together.
"She loves to go to Sonic and our family fosters dogs and she loves dogs." Fehl said. "We play catch together with the dogs and have a lot of fun."
Host sister Peyton Fehl has also learned a lot about the culture and has had fun seeing what it's like to have an older sister.
"It's a different culture to learn about, she eats a lot less than our family most of the time," Fehl said.
Even though Holmes enjoys her host family she misses her family in Germany too.
"I miss my family, my mom, dad and two older brothers." Holmes said. "I also miss the good food, especially the German bread."
The biggest challenge for Holmes has been the language barrier.
"The language is very difficult especially in class when I don't understand something." Holmes said.
Another difficulty is the difference in the school schedule.
"Not every day is the same schedule every day had different classes but here we have the same classes every day," Holmes said
Holmes plans on going to college back in Germany but is thankful for the opportunities that Liberty has given her.