Liberty Designers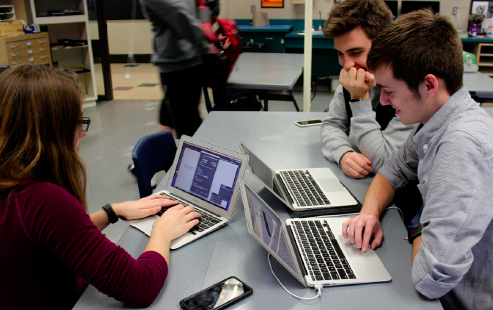 With 56 clubs at LHS to get involved in ranging from politics to bass fishing, we can now welcome The Liberty Design Club. Senior Riley Evans had a very innovative goal when he created the club.
   "I had taken the design class in the past few years and it really inspired me," Evans said. "I didn't just want to follow some curriculum and do some random work, I wanted to actually try and help the school."
   This group of designers create a professional looking atmosphere around the school. You may have seen their works displayed in the hallways, advertising different organizations.
   Every Thursday during Liberty Hour, the group gathers in room 110 to create banners, shirts, posters and other graphic designs for all of the clubs at LHS. During the meetings, the four members sign up for different tasks and specialized designs.
   "We look over anyone that needs a design and occasionally we split up the work to see which one looks better," senior Oliver Mulcahy said.
   Since the announcement of the club, they have been flooded with requests to create logos and shirts.  For more information for Design Jobs visit here
   "I've been designing since sophomore year," senior Rachel Backs said. "We had the water bottle designing contest and I won, I guess that was kind of a launching point for me and design."
   A school wide email advertised the help offered by these designers. With just a few clicks of a button, your club's new design will be on its way to be approved by you in a matter of weeks.
   "Sometimes they're really big designs that are really important, so you kind of have to work on those for a week or so, go through a couple of different designs to see what works out and what doesn't," Evans said. "Sometimes you can just get something that comes to you really fast and you can get it out in a day or two."
   They are currently working on posters for The Nest and Technology Student Association (TSA), and soon you may see members of the Young Democrats Club or Free Thinkers Alliance wearing shirts designed by the LDC.
   Members of the club have advice for those interested in joining.
   "In the design club, we all know how to use Illustrator and Photoshop pretty well," Evans said. "Taking the introduction classes is also a big plus, Ms. Morris does a really good job with teaching the programs."
   Backs agreed.
   "It might be helpful if you joined a design class and had Illustrator, but you can always just sketch things if you're good at designing and help create a logo," Backs said.
   As of now, the club is exclusively working for LHS, but that doesn't stop the club members from keeping their eyes on goals.
   "Hopefully if businesses need a design we can work for them too," Mulcahy said. "But right now we're just focusing on the clubs with a school."
For more information on Liberty Design Club or for Design Jobs visit, here