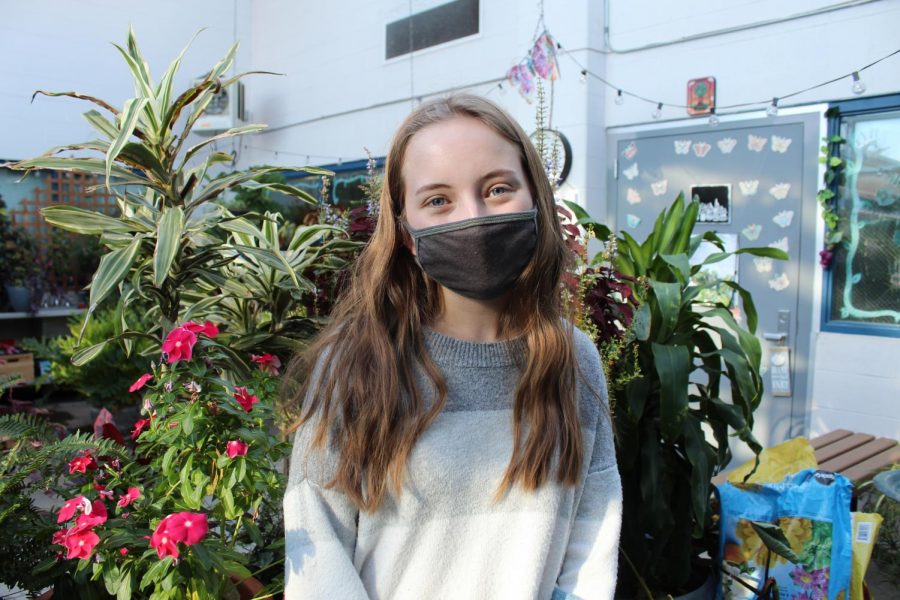 Senior Emma Stauffer has always had her eye on the prize but took a different approach when
it came to joining
The Bell.
   "My journey to starting newspaper is kind of different than some peoples' because I didn't join it
my freshmen year. I kind of let my anxieties about high school get in the way of me doing what I
really wanted to."   Stauffer said. "So instead I took Journalism I which is the class that used to be
offered and taught by the former Newspaper sponsor. I joined that and ended up really
connecting with the teacher and really liking journalism and writing."
    With a little encouragement from the newspaper sponsor, and a year of high school under her belt; Stauffer joined 
The Bel
l staff. She immediately fell in love with the atmosphere, the people, and the real impact she could make on 
student body. 
   "It's unlike any class that I've ever taken before and most of the time it doesn't even feel like a
class it just feels like a club where you're just with your friends." 
   When a foreign exchange student came to LHS in 2019 Emma had the chance to interview her
and learn about her experiences. Through this she found her passion for writing about students
and events around the school.
   "I really like the stories about people. I think the stories about events, I enjoy writing them. But I really like it 
when I get to write about peoples' emotional aspects."
   Although Emma is sure what life after high school will look like for her, she is positive that writing and newspaper 
will always have a special place in her heart. 
"I'm still trying to figure out my plans for after high school. I change my mind everyday. I know I
will always love writing."
Emma Stauffer, Managing Editor
Apr 23, 2020
Mar 03, 2020

Are students aware of their options after high school?

(Story)

Mar 03, 2020
Jan 31, 2020

The Journey of a Lifetime

(Story)

Dec 20, 2019

Freshman Grant Herzog

(Story)

Nov 05, 2019
Oct 08, 2019

New Year, New Rules

(Story)

Oct 08, 2019

New Counselor in Town

(Story)

Sep 30, 2019

Farewell Rose and Penny

(Story)

May 15, 2019

Campaigning for Council

(Story)

Apr 17, 2019

Freshman Jack VanSickle

(Story)

Apr 03, 2019

Comparing the Classics

(Story)

Feb 06, 2019

Sophomore Sarah Shores

(Story)

Jan 18, 2019

The Flying Trailblazers

(Story)

Dec 12, 2018
Nov 07, 2018

International Dreams

(Story)

Oct 15, 2018

Spotlight on Patrick Sheeley

(Story)