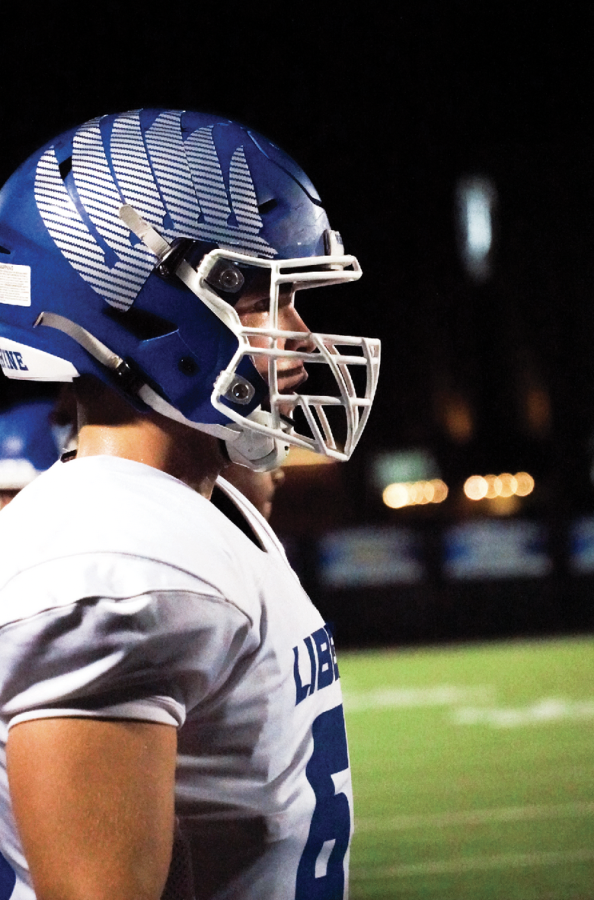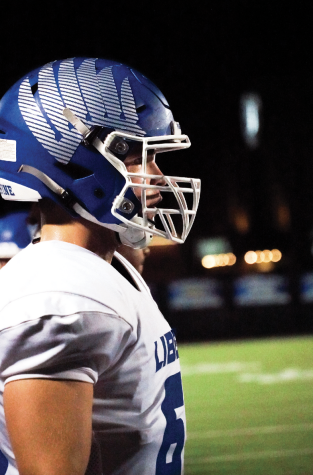 Aug. 27, 2021 was not like most Friday nights in the last year on the Hy-Vee Field, located on the campus of Liberty High School. On this particular night, the city came alive for the first time in months with roaring cheers and beaming faces.  Fans, players, coaches and all people involved in the community came together to watch something they've missed out on for such a long time: football.  The Jays faced off against the Blue Springs Wildcats to kick their season off .
With a chip on their shoulder, the team came into the game beating the Cats twice last season and had a lot to show off. The Jays defeated the Cats 43-42 in overtime to give their home crowd an exciting first game back and a nail biter to the very end of the game after a game winning QB-sneak from senior quarterback Tyler Lininger.
It was not only the game that was the show of the night, but the amount of people who showed up from the community to support once again after a long year of COVID-19.
"It's the LHS community, which to me you don't have to be around here very long to realize how special of a place it is," history teacher Zach Werner said. "As a teacher you feel it everyday, as a student I think you feel it and nights like this when the whole community gets to feel it. I'm just super excited to have a little bit of normalcy and to see our students getting to enjoy what high school life should be."
Students were finally feeling routine again after they packed the stadium up and rallied for their team.
"It's great, I just love it being loud," senior offensive lineman Cameron Lawson said. "It's fun to look up and see a bunch of fans, rather than a small student section. It just adds to the adrenaline rush."
Just like the football team, the school's band never got to play in front of a full crowd last year either due to COVID-19, so they couldn't have been more ready to play. For senior drum major Abigail Pitchell, a change in atmosphere was just what she had hoped for.
"I missed it so much, especially since it's so different now," Pitchell said. "Last year, we didn't get to march or anything, so this year it is way better."
For the Liberty Sapphires this night was the first time they got a chance to show the community their talents after last year having to perform virtually for competitions or in front of an empty crowd. Despite this, the Sapphires won a National Championship the 2020-2021 season. The Sapphires finally got to show fans what they were capable of during their halftime performance.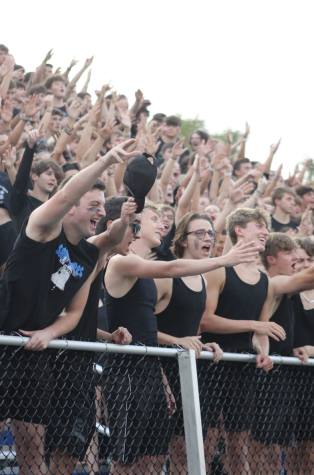 "As of now, each performance has been good and we're getting better each time, which is always the goal," junior Olivia DiGionvanni said. "It's very loud and jam packed, which is really exciting because last year was pretty quiet and not the same as normal."
23rd year Sapphires' coach, Maggie Willis, Friday nights are much more than just attending another football game
"I know how important these experiences were to me growing up. We were ready to take it in and enjoy the moment because as we all know it can be taken away so easily and quickly," Coach Willis said. "Everybody is a Blue Jay. This is almost like a celebration at this point."
The next home football game will be later this month on Friday, October 22nd against North Kansas City High School. For the football team, band, Sapphires, and the rest of the community of Liberty, these nights will not be forgotten as they know how easily it can be taken away.
Check out the football team's schedule here.