Eat. Sleep. Swim. Repeat.
Lady Jays swim team is working towards its best season yet.
Swimmers leap off the block, divers dive into the pool, everyone's eyes are on the chance to win. Every swimmer knows they can't win the entire meet individually, they are going to need their teammates alongside them.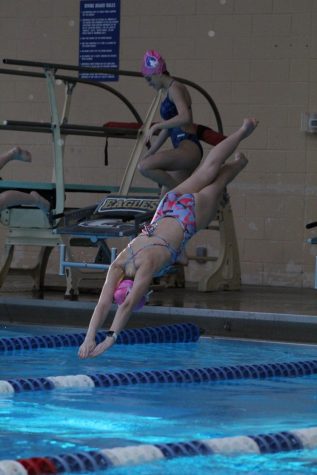 The Lady Jays swim and dive team recognizes just how much they need their teammates to win and are fighting for their best season yet.
"Last year we had a team that bonded better than any team we've ever had and most of those girls are back," head coach Chris Murphy said. "They have helped the team this year, not only by being fast but also getting along well and doing what needs to be done for the team to be successful."
Swim meets are a series of 12 events that all add up to a team's final score.
"There are eight individual events, three relays and then there is a diving event which counts as one of the 12 events," sophomore Sydney Usher said. "The events start with the 200 medley relay and ends with the 400 free relay. The eight individual events are in between those along with the 200 free relay."
Every sports team is going to run into problems during the season, but the good teams always find a way to turn their problems into positives.
"Sometimes when you have a big group of girls who are all really good it's hard to be competitive and push each other in the right way," sophomore Sidney Morris said. "I think sometimes people are competitive in the wrong ways. I think you have to build each other up to swim fast and I think sometimes we have problems with that. Sometimes we are each other's competition rather than other teams, but we're a lot better with handling that now that we're later in the season."
One aspect of the team that helps them compete at a high level is they have known each other for quite a while.
"A lot of us come from the same club team, so we already are really close," Morris said. "We are all really close friends so we're really good at pushing each other. We hang out all of the time, even over the summer during the off-season."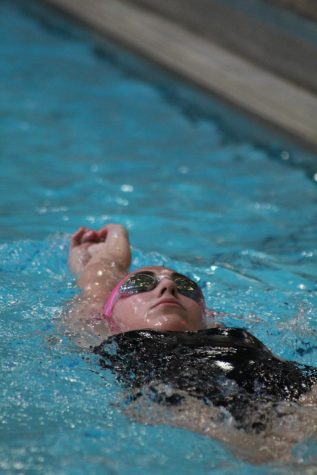 Liberty North is a competitive team that has created challenges for the Lady Jays in the past.
"We're one of the top teams in the city, but also one of the best teams in the city is Liberty North," Murphy said. "They have tended to just beat us by a little bit in every single meet this year except for the last one, where we beat them in an invite. It was good for the girls to see that they can beat Liberty North. It's a unique situation where we have a team like Liberty North who is just as good and as fast as us in the same town."
In swim and dive, athletes know if they are going to State as soon as they make a qualifying time. The Lady Jays are continually trying to get ready for state and to improve their performance.
"For State, we try to eat healthy and drink a lot of water," senior Christina Rangel said. "We also just workout and try to get ready. We spend a lot of time together and we just try to have fun while practicing. We're always trying to push each other and be competitive."
The preparation and work leads up to February 21-23 where swimmers and divers compete for a state title in St. Peters, Missouri.
"You have to work hard all year long and then hit what we call taper just right at the end of the year when we rest so that at the end of the year the best times are coming are on that single day of prelims at state and then try to come back for state even faster," Murphy said. "That's probably the biggest stress you have, you work all year long and then it comes down to that one day."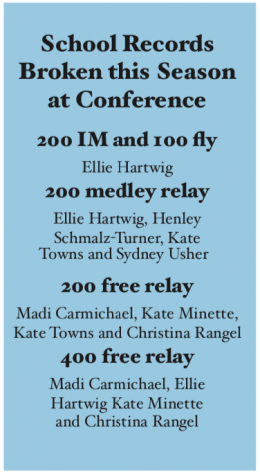 Athlete of the month, junior Ellie Hartwig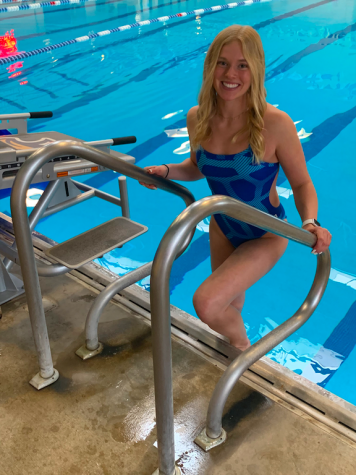 "I'm proud of getting a State cut in all eight events offered through high school swim. My dedication to the sport helps me excel because it teaches me about commitment and responsibility. I broke a conference record one of my old teammates set, the 100 fly record with a time of 56.51 seconds and the 200 individual medley record with a 2:08.98. I think that the rest of this season is going to be phenomenal as long as we keep working together."
Teammate senior Kate Towns
"Ellie is always super motivating and is always in a good mood. She pushes everyone to be the best that they can and she is an important girl on this team. This season I hope she wins an individual event at State because she deserves it more than anyone. She works so hard, she is ranked first right now and I know she can do it. She is super kind to everyone and pushes everyone to be their best. There is nobody like her on the team."
Coach Chris Murphy
"She has a chance to be our first State champion at Liberty High School in a long time. That is my ultimate goal for her. She works incredibly hard to be the best she can be, so being a State champion is definitely a possibility. I knew she would break both of those records. It was a matter of when, not if. The fun part will be watching how much she can eventually lower those records. I know she will leave those records with times that will be very hard to beat in the future. I also believe there will be other records she gets before she graduates."