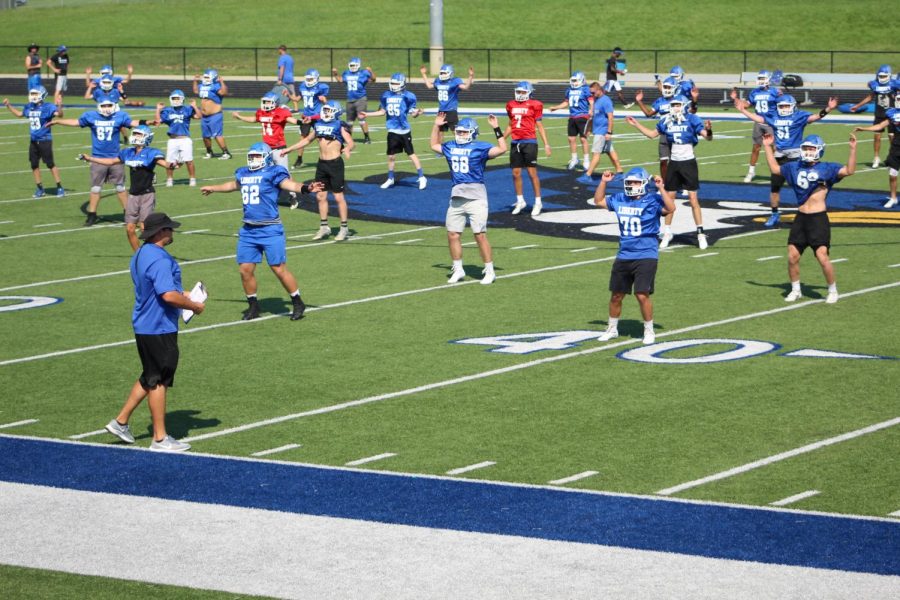 The wind hits the flags at a rapid pace. Grunts of pain and yells of inspiration crowd the field. This is the Liberty Football team hard at work on a regular weekday practice. Sweat drips down the players' faces with little break, but still, they don't slow down their efforts to improve.
Coming off of a summer full of practice and the current practice five days a week and watching game film every Saturday, the team is looking for big returns. This year's toughest competition is Staley, Liberty North and Lee's Summit West. The Jays are looking to improve from last year's 7-4 performance.
"We play in a great conference and last year we were runner-up in that, with two people tied in first. I'm excited, I want to be able to compete for that conference championship," Head Football Coach Chad Frigon said. "We took a big step in the right direction with that by winning week one against a conference opponent, and we just need to keep building on that."
Families, friends and fans continuously want to know the football team has been doing at practice to improve and play at the next level.
"We have an installation process of offense, defense and special teams and then we tweak the schemes we used in previous years to better fit our team and who we play this year," Frigon said. "We have a really solid offensive line that will hopefully allow us to have a good run game that will set up our pass, and I think when looking at it we have a lot of key components of that."
With a solid offensive line, pass game and run game, the Jays have been working on their offensive drills to tighten up their performance.
"At practice, we do a drill called four square, which is where we run all of the run plays, and it helps us get the blocking down. We have different defensive lineups that we go against and practice," sophomore Wentric Williams III said. "We work super hard every day. They are very tough on us about water breaks and they are always keeping us working."
Being on the team requires lots of time and commitment. The players have school work, jobs and everyday household activities, but they still find time to get onto the field for their 3:30 p.m. to 6:00 p.m. practices.
"We practice a lot more than people think. We practice five days a week in the heat with not many breaks, which makes the guys tougher," junior quarterback Luke Smith said. "I'm excited to play with the boys, and to compete against some good teams."
Senior Kaden Rottjakob and Junior Alek Rottjakob
Junior Alek Rottjakob
"I'm a hard worker, I try to be a leader as much as I can, and I try to have fun while doing my best. I'd like to get better for my next year, I want to make this season the best I can. I'd like to work on my kicking skills, I want to lengthen my distance as much as I can."
Kicking Coach Grant Brown
"For both of them, I want them to enjoy their time on the team. The success on the field will come with hard work and attention to detail, which I think they both have. I want them to look back and be glad that they decided to join the football team. They are coming out to football practice right after school, getting their work in with special teams and then heading right to soccer practice. They work hard and they have fun doing it. They bring a great attitude every day."
Senior Kaden Rottjakob
"I went three for three off of the kicks in the first game of this season, and I got a tackle which was cool. I chose to play football because I thought it would be a good switch up and I knew the team needed a kicker."