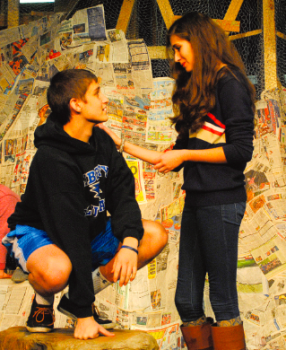 LHS has gone to the apes, as the theatre department will put on their highly anticipated rendition of the musical "Tarzan" on November 14-16. This production is very different from past productions because of the expansive set that envelops the whole audience.
"The set is ridiculously amazing!" junior Noa Adams said. "It's crazy, there's a spinning tree! We are swinging on ropes, that's new, with no harnesses, that's also new."
The set is so massive that they have reached out to the community asking for old newspapers for their jungle set. The amount of newspapers they've used for the whole set is unknown but when asked, many cast and crewmembers responded with about one ton of newspaper.
"I think we are going for the Guinness book of world record for biggest Paper-Mache tree or something, so I don't know exactly how many pounds of newspaper we've used," junior Nina Hawkins said.
Like in A Christmas Carol last year with a few audience engaging stunts, this year there will be more.  "We have a lot more audience interactions because we are monkeys," Hawkins said.
With such a large production and 87 cast and crew members and just coming off winning a blue star award for last year's production of A Christmas Carol, the cast and crew are looking forward to living up if not exceeding the expectations of last year.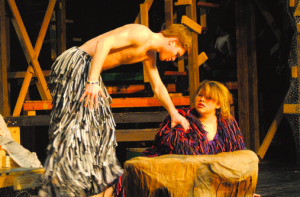 "Yeah, we have a reputation to up hold, that's why we have to clean everything everyday," Hawkins said. "By cleaning, I mean working on our dances and making sure everything is perfect and costumes have to be made, so yes we do have something to live up to."
Theater teacher Don Johnson agreed. "There's always something to live up to, [we focus on] how are we going to make it bigger," Johnson said. "My saying is 'go big or home,' so we are going big again and we will see what happens."
Every cast and crew member understands that motto and is on board for "going big." "Johnson out does himself every year," Adams said, "sometimes he bites off more that he can chew, but the rest of us help him chew it, I guess."
A part of the reason why the cast is so big compared to previous plays is because of the underclassmen joining the high school. The move has only positive effects on the production. "It's been wonderful to have the underclassmen and getting them involved their freshman year because they get 'the bug' and we love having new people come in," Johnson said.
For many underclassmen this is their first production they have been in, like sophomore Zac Pitts "It's really fun I really enjoy it, I've always been a big music person, so this is really a cool experience for me," Pitts said. "I don't know about everyone else but I want to upstage last year's."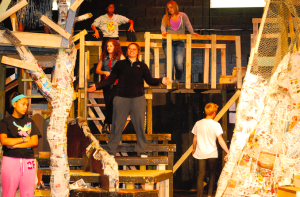 As show time is drawing nearer, the excitement grows for many cast mates. "Once we get up to the last couple of weeks it gets way more fun because it's actually putting on a show and not just running through stuff and fixing it and making things better, it's more of a performance," senior Caroline Craven said.