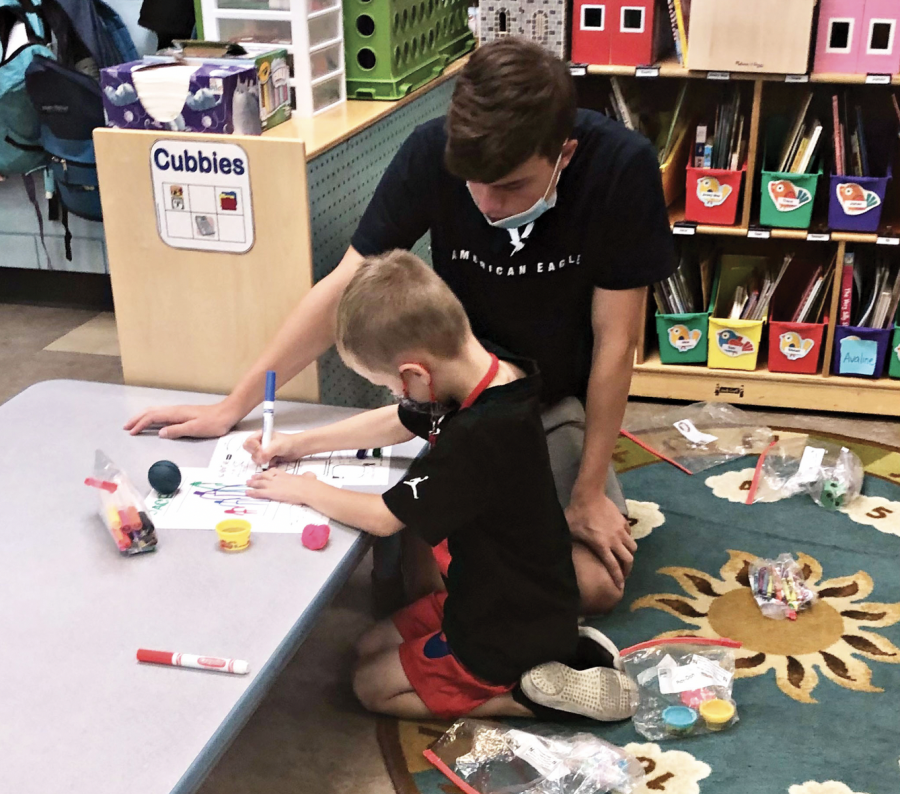 In the Early-Bird Learning Center, you see various, vivid colors such as posters, coloring pages and crayons. You hear giggles and laughter. During Thursdays, the Early-Bird Learning Center is full of high schoolers and preschoolers interacting with each other through planned activities. When the high schoolers and preschoolers are not spending time together, the high schoolers are reading textbooks and taking notes and learning various concepts such as brain development.
"There is a lot of textbook reading, and they really dig in to understand the concepts and the importance of being a professional when you're with preschool students," Child Growth and Development teacher Marla Badalucco said.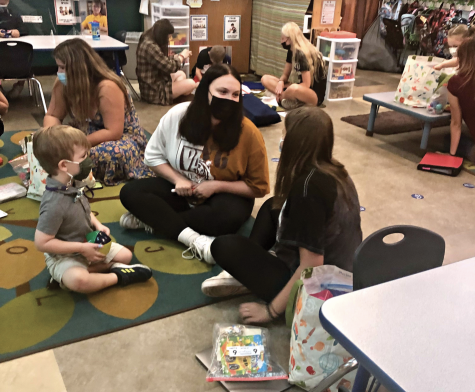 A majority of students who take this class plan on pursuing a career that requires interaction with children such as teaching. However, this class opens doors for students who plan on pursuing careers besides teachers.
"I am going to be an anesthesiologist assistant," senior Alyssa Richmond said. "So when I work with kids, using this class would be really helpful because I will know how to engage with them and how to get them to tell me what I need to know."
Students take the lessons they learn from textbooks such as the brain development of young children and apply that information to other avenues. Students create activities that will teach the preschoolers new skills and new information.
"You can see their brains go through different phases," senior Lauren Flickinger said. "I think it's really cool to watch how they work and how they are different in social environments, and to see how different cultures can affect the way they are."
The Thrusdays spent with the preschoolers allows the students to acquire qualities they will need for their careers that will help them work with different age groups.
"I've learned a lot of qualities," Flickinger said. "A big one is patience. I've learned to be kind and patient. Different kids learn in different ways and you have to adapt to the job."
Taking a Child Development high school class is imperative in learning how to engage with children. According to the National Association for the Education of Young Children, an understanding of how children learn and grow produces high quality caregiving. Even if you do not plan on working with children in the future, understanding how to interact with children can be beneficial.
"I tell them no matter what, even if you don't want to be a parent. At one point you're going to have to work with kids and understand kids," Badalucco said. "Anybody can benefit from the class. It's really learning about human development more than anything."
Students interested in the Child Growth and Development class should enroll in Intro to Child Development. It is not a prerequisite class but provides background information that can be used in Child Growth and Development. To learn more about the Child Growth and Development class, go to the Liberty High School website where you can access the Early Bird Learning Center homepage.