Foreign and Explorin'
LHS tries new things in the foreign languages.
Here at LHS, there are four foreign languages available for students to take. Spanish, German, French and Chinese. Each language has either an Honor Society or a program for students to join. This allows students to be involved in the school and learn about other cultures. Each of these foreign language honor society or program, have a different way of operating.
Spanish Honor Society
Spanish Honor Society is made for students who care and are dedicated to the study of the language. To get into SHS, there are requirements.
"There is an application process," Spanish Teacher Astrid Ruiz said. "They have to have a 3.5 GPA or higher in Spanish and they have to be a junior or senior."
Spanish Honor Society is all about giving back. Each year they do a handful of volunteer work, such as adopting a family for Christmas and teaching Special Ed kids Spanish.
"My favorite thing about this Honor Society is seeing how dedicated they are. They're going to be giving back. I enjoy seeing that they're using their Spanish for something good," Ruiz said.
SHS also is responsible for taking care of the greenhouse here at the school. SHS has been in charge of the greenhouse for 6 years. No one was taking care of the greenhouse before so, SHS took over.
In SHS, their main focus is the greenhouse. They want to stay in charge of the greenhouse as long as possible. However, there were many obstacles in getting to be in charge of the greenhouse.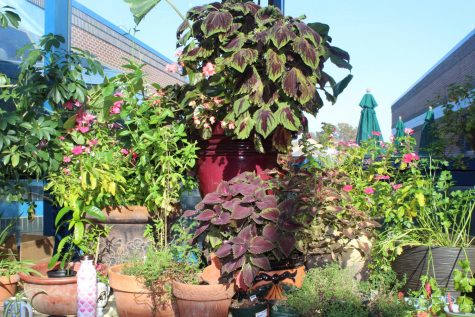 "The greenhouse has been at this school since the school has been built," Ruiz said. "The greenhouse hasn't been used and doesn't have a cooling process. To add a cooling system to the greenhouse will be expensive. Therefore, the greenhouse can only be used during cold weather. With the greenhouse, there was a lot that they had to purchase."
They don't get funding from the school, they had to find a way to make their own money.
"We sold plants in little cups. We worked at Pizza Ranch and we bussed tables and they gave us 10% of the sales," Ruiz said.
Senior and President of the Spanish Honor Society Carmen Caudillo explains a way they got some of their plants that they put in the greenhouse.
"We got a donation of two trees and a bunch of flowers because a Spanish teacher passed away and her husband gave all the plants to us," Caudillo said.
Students enjoy the greenhouse.
"My favorite thing about the SHS is being in control of the greenhouse. relaxing it is, along with the waterfall, it's peaceful," Caudillo said.
Not only do students enjoy it but so do teachers.
"My favorite about the greenhouse is the peacefulness. We are having a place where students have contact with nature because they are very stressed out. Even teachers have asked to be in the greenhouse because it calms them down," Ruiz said.
German Honor Society
German Honor Society also known as Delta Epsilon Phi (ΔΕΦ) has been at LHS since 2010 and has been involved through participating in events such as Safe Halloween and the Diversity Festival.
They like to celebrate German culture and have fun activities to do so. Throughout the school year, they attend a German performance at Kauffman Stadium, eat at German restaurants and celebrate German holidays. To join GHS, students have to be invited.
"To be invited, a candidate must be at least a junior and have at least 5 semesters of high school German," German teacher Cynthia Bierrman said. "They must also have an overall GPA of 3.0 and a 3.8 GPA in German. They must maintain their enrollment in a German course and their German GPA in order to be allowed to wear the society's honor cord at graduation."
Member of GHS senior Allison Meyer, has a goal this year in GHS. "One of the big goals for all the seniors and juniors is just to pass the seal of biliteracy," Meyer said. "It's a test you take and you're then bilingual in German and English because it shows that you're fluent in the language."
German Honor Society does things for the community too. During the holidays, GHS participates in Christmas caroling in both German and English and carol to residents at a local assisted living facility.
French Honor Society
French Honor Society is new this year. The idea became introduced to the French students and teacher last year. Right now, they're preparing to get this Honor Society started.
"Right now we are trying to advertise that we are implementing a society," French teacher Laura Snead said. "In January I will check which students are eligible. In March we will have an induction ceremony. It won't be until the beginning of next year when we elect new officers and have activities."
Just like any other Honor Society, there are requirements to get in. For French, you must complete at least a semester of French 4 with a GPA of 3.75 and must receive a letter of invitation. Vice President senior Bella Cordero of the French Honor Society explains what their plans are once this Honor Society gets going.
"What we plan on doing is for students that are in the French classes to meet to really talk more in-depth about the culture and the language. I'm looking forward to new bonds and connecting with students who really appreciate the French culture," Cordero said.
French Honor Society does have one obstacle. Since it's all so new it's hard to plan for the future for French Honor Society.
"It's hard being the founding board because the rules and laws that we set for the honor society are the ones that stick for the future or any new student that comes in," Cordero said. "It's been a bit stressful since we are graduating this year and we want to make sure we have a smooth plan for the new kids coming in."
Chinese Acceleration Program
Chinese has something called the Chinese Acceleration Program. This program allows students to work at their own pace when learning the language since every student learns differently.
"This program is for my very best students," Chinese teacher Shianguu Hseih said. "They learn things so quickly so there are not enough things to do. In the past, I've given something called an enrichment packet with something more challenging and more complex to work on. The difference between an enrichment packet and the Acceleration Program is you get credit for it. If you finished Chinese II, I'll let you start Chinese III, ahead of your peers."
Sophomore and member of the Acceleration Program Emily Valentine, see the program being beneficial.
"It benefits me because it lets me learn a little bit faster and be in control of how much we are able to learn," Valentine said.