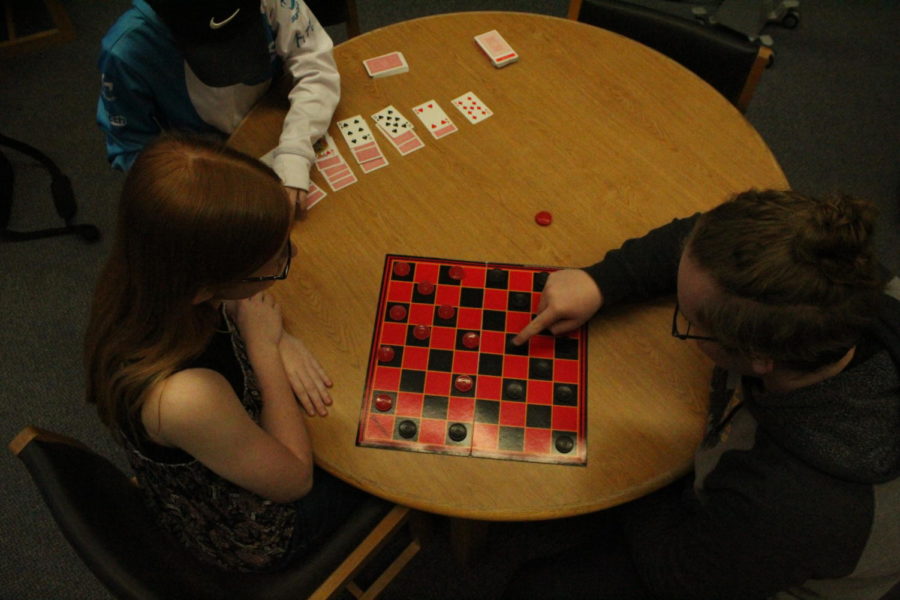 If you're looking for some light-hearted competition, the LHS Card and Board Game club (CABG), is the perfect place.
   Junior Carissa French created the club a year and a half ago, and to this day, she coordinates every meeting. Whether it's on a Thursday during Liberty Hour or a Sunday at the Woodneath Library, you can find the members of this club sharing their love of card and board games.
   "Carissa heard me sharing about board games during class and she approached me about starting the club," science teacher and club sponsor Stuart Jorgensen said. "I provide the space and some of the games. Personally, I spend a lot of time playing board games with my family, so this was a great fit for both of us."
   French not only runs this club but makes sure members are content with choices and how things are running.
   "I get input from the members by asking what games they would like to play," French said. "Sometimes they ask to play a different game than normal, or they'll ask me to bring in a specific game."
   The games are chosen based on the number of people they support and how long they take. For example, Liberty Hour is only 35 minutes, leaving room for short games like Uno, Pit and Ice Cool which are also a few of the popular games among CABG members. On Sundays, they play longer games such as King of Tokyo, Smash Up, Risk and Sheriff of Nottingham.
   If you're feeling the need to play a board game with some friends, there is no need to fret over forms. All you have to do is walk into Jorgensen's room during Liberty Hour on any Thursday and ask to join in.
   "I've a lot of friends in the club and have made a lot more since I joined this year," junior Landyn Cowger said.
   To some, the club is not only about the bonding experience, but also about the stress relief it offers.
   "I find this club beneficial because it's fun and helps take the stress away from our school lives. even if it's only for a short time," junior Kelly Bui said.
   French seems to like her own creation and her friends do too.
   "I find CABG to be very entertaining and likely to make my day better," French said. "The people in it are funny, adventurous and work very well together. No matter what game we break out, it's guaranteed to be a fun time. I wouldn't miss it for anything."