Cold-Blooded Caregivers
Lizards are introduced as a helpful pets for students.
Hang on for a minute...we're trying to find some more stories you might like.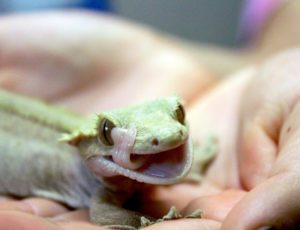 Scaly and cold-blooded is the new cute and cuddly. Many students may know that LHS has therapy dogs and bunnies. This year there is a new addition to the therapeutic helpers: lizards. There are three therapy lizards in 400B that can be visited any time during the school day. The owner of the lizards, Sabrina Grant, welcomes anyone to visit them. The lizards actually enjoy visitors and can be held or looked at by students to help relieve stress.
Though an animal with fur might be the first thing someone thinks of as a therapy animal, the lizards can also be cute and cuddly along with being allergy friendly. The lizards are said to be therapeutic and many students agree.
"I visit with them a few times a day everyday," junior Bailey Foster said. "They calm me down just by them being calm themselves. The texture of their skin also is so interesting. I can focus on that and how calm they are instead of focusing on my stress."
There are two Asian water dragons named Mushu and Vicky and one crested gecko named Ralphie. People tend to like Ralphie better than the two Asian water dragons because she is small and more calm during the day because she is nocturnal.
"Ralphie is more quiet and sweet and is more cuddly than the others," social worker Kris Boyle said. "Kids really like to hold Ralphie because she's soft and doesn't move a lot. Mushu and Vicky are more active and harder to hold because they're bigger and they have claws to help them hold onto things, so they might not be as comfortable to hold."
Animals tend to offer comfort and stress relief due to the unique connection they share with people. Students of all grades visit the lizards to help calm themselves down.
"When I started teaching I realized the lizards are therapeutic because they're calm," Grant said. "Animals are really good with calming you down and get your focus off of things that are stressing you out. They also accept you for who you are they don't care what you wear or what problems you may have. If you're gentle with them, they'll be gentle back."
Junior Mackenzie Hill agrees.
"I visit the lizards because they make me feel better and relieve my stress when I hold them," she said. "I love animals, so whenever I'm around these lizards I feel very comfortable, calm and safe. They're really fun to play with and they're really fun to learn about. If you've never experienced the lizards before, you get the excitement of holding one and getting to see how they act and the unique feel of their skin. It shows that not all animals are bad, although lizards sometimes have that reputation with people."
The other therapy pets are dogs, named Cooper and Tucker, and a bunny named Opie. The dogs walk around the school on Wednesday and Friday to sit with students all over the building. The bunny is in Room 612 and can be visited at any time too. The lizards add a diverse option to LHS' collection of therapy animals.
Could your pet qualify as a therapy helper? Find out more here. You never know when you can help others. Or, if you'd like to meet one of the therapy pets, email [email protected] or [email protected]