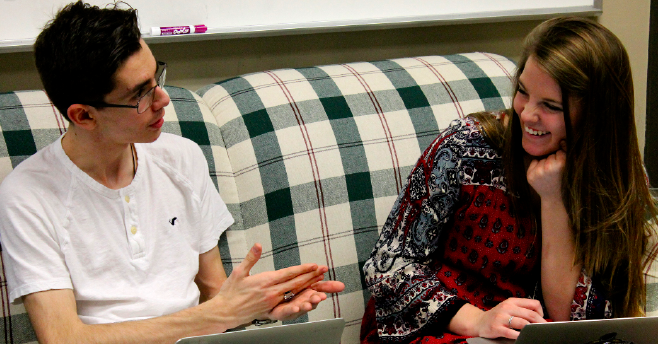 Every Friday, students dress for success and prepare to take on competition from schools all across Missouri who share their interest in speech and debate. However, with competition season coming to an end, several students were hand picked by their coaches to attend District competitions at LHS, Park Hill South and William Jewell College.
   "The Districts are spread over six days," Debate coach Timothy Baldwin said. "The first weekend is all debate and that's held here at LHS. After that, the next three days are held during the second weekend of March and that's at Park Hill South. The third day is student congress and that's held at William Jewell College."
   Around 40 students get to attend Districts to compete for a spot that will take them to Nationals.
   "If you win Districts or place high enough, you can qualify to compete in Nationals," Baldwin said. "This year it's being held in Salt Lake City, Utah. My goal for the team every year is to be one of the top ten schools at that tournament, so we not only establish that we do it all year long but when it's us against the best, we demonstrate that we can compete against the best."
   Coaches have had a difficult time deciding which of the many talented competitors should be able to represent LHS at Park Hill South and William Jewell.
   "It's based on their performance at competitions during our regular season, as well as their dedication and their work ethic throughout the school year," Forensics coach Michael Turpin said.
   All competitors get nervous, especially when there's a championship on the line.
   "My biggest challenge has been taking risks," freshman Maggie Quinn said. "A lot of times you have to take risks without knowing if you should or not. I used to be very scared of competition and being put up against other people. Now, I've found that I really do like getting to test my strengths."
   Though the challenges are difficult, the competitors all manage to push through them for their love of the stage and competition.
   "I think it's probably just the experience of being in the debate round that I really enjoy," sophomore Emma Kenney said. "I think the topic and the education that we receive on the topic is really interesting, but I think the persuasion part of it is my favorite."
   Students have different things they enjoy about competing.
   "My favorite part of competing is just that I'm a very sporadic person and I love talking to people," junior Corben Phillips said. "Whether it is that I'm doing my informative, which is more of a serious speech or I'm doing another event that's more funny. It's just getting up there and getting them to laugh or understand something. I just get to be me."
   From novice to varsity members returning to take the stage, everyone feels the excitement as they prepare for the important days ahead of them for nationals.
  "It's a big thing for me that I keep it in my head and keep performing it because I really want to go to Districts and hopefully Nationals," Phillips said. "I just keep practicing and I fix what judges say needs to fixed so that I can make it the best that it can be."
   The seniors and juniors returning to the competitions see it not only as a chance to meet their goals and lead their school to championship, but as a fun experience where they can do something they love.
   "My freshman year, nationals was in Birmingham. We took a really big team to nationals and we had the most national qualifiers of any school in the country," senior Phoebe Alpern said. "It was a really great bonding experience for me as a novice debater and freshman on the team to be able to connect with the older students and the seniors and try to be a part of the legacy that they left."
   The first and second weekend of March these individuals will be head to head with other schools, using their pieces and debates to show everyone that dedication pays off.