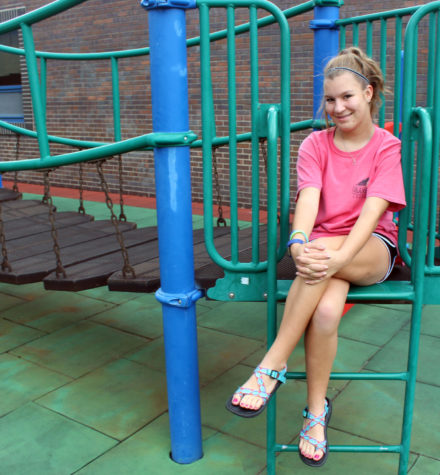 You can learn a lot about a person based off of what they cherish. Freshman Sydni Meyer values her friends and family.
"They have done so much for me; they're always there for me and I don't know who I would be without them," Meyer said. "My mom loves to spend time with my sisters and I, and my dad is always encouraging us to try new things"
Besides her values, Meyer wants everyone to know that she's very committed to band.
"I'm so dedicated to band and my bandmates," Meyer said. "I've been playing the clarinet since I was in 4th grade. When my sister inspired me with her positive experiences."
In the future, Meyer doesn't know if she wants to continue band, but she does have plans to go to the Coast Guard Academy and become a chef.
"Whenever my mom would make dinner or dessert, she would always ask for my help. Eventually I realized how much I love cooking and want to make a career out of it," Meyer said. "My dad said that my grandfather went to the Coast Guard Academy. I think it would be a cool experience."
Although the journalism skills Meyer will gain can't exactly help her become a culinary artist, it can help her reach some of her goals for this year. "I'm looking forward to making new friends and memories,"  Meyer said.
When Meyer was asked what her goals are for newspaper, she eloquently said that she wants to be able to "Learn new things about the people in the school and the school itself while having fun becoming a better writer."
Even though Meyer will be spending an abundance of her time being a voice for Liberty high school's student body.  Hopefully the combination of Meyer's school spirit, friends, and zealous attitude will help her accomplish her newspaper and general goals for the school year. And maybe through the work she cherishes you will be able to learn about who she is a journalist, friend, daughter, sister, student, and bandmate.
Sydni Meyer, Reporter
Jan 28, 2019

Junior Oli McCann

(Story)

Dec 14, 2018

Flags Flying Solo

(Story)

Nov 01, 2018

Spotlight on Ariel Chen

(Story)

Oct 12, 2018