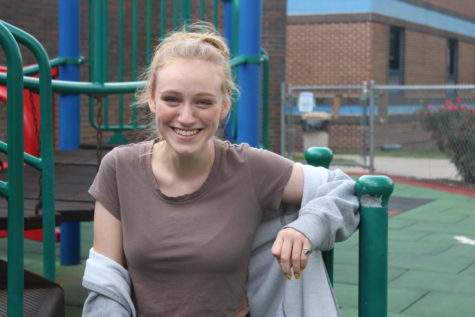 This year for junior Rosie Frederick seems to have many opportunities coming her way. Whether that be through her love for science or writing, she is excited for what is to come.
Though Frederick has just joined newspaper this year, she has had a love for writing long before she thought of taking the class.
"I write personal short stories," Frederick said. "I feel writing on my own time helps me improve."
Frederick is very excited to see what challenges to her writing newspaper will bring her this year.
"I am really looking forward to newspaper and where it will take me," Frederick said. "I will have fun with whatever is thrown at me."
Along with great improvement opportunities, Frederick thinks that Liberty is full of other great options, of which she is definitely taking advantage of this year. Being in dual credit, AP, and college classes, she has her eyes set on the prize.
"I would love to work in the field of chemistry or pharmaceuticals," Frederick said. "I think it would be really cool to work in a lab and make medicine that could help people."
Something that Frederick is interested in, other than writing and science, is the variety of languages that LHS has to offer.
"I take German which is a really fun class," Frederick said. "I think it is cool that we have an option to learn multiple languages."
Though she seems to enjoy school and working hard, she also enjoys hanging out with her friends and watching Netflix shows.
"My main goal is to be successful and happy," Frederick said. "No matter what I end up doing with my life, I don't ever want to wish I was doing something else."
Rosie Frederick, Reporter
May 20, 2019

Advice for a New Life

(Story)

Apr 12, 2019

Reduce, Reuse, Recycle

(Story)

Mar 26, 2019

The Breed in Need

(Story)

Feb 18, 2019
Jan 18, 2019

Last but not Least

(Story)

Jan 18, 2019
Jan 16, 2019

Starting with a Slam Dunk

(Story)

Dec 13, 2018

Senior Brynn Baymiller

(Story)

Nov 13, 2018

Shut Up and Drive

(Story)

Oct 04, 2018