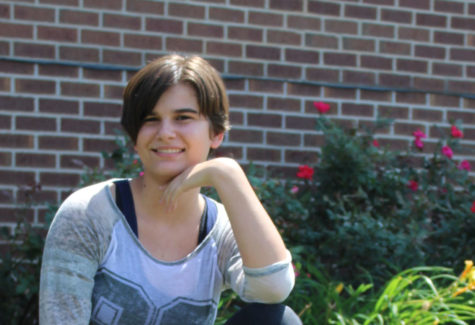 Reagan Johnston is a creative, unique and open book freshman who loves theatre and wants to become a better writer. Her father really encouraged her to join newspaper and she wanted to work on her writing skills to become a better writer. She also thought that being on the newspaper staff would be cool. At school Johnston's favorite class is Technical Theatre, which is something that she decided to reach out and take.
During the school year Johnston is hoping to be part of the high school's musical this year "Little Shop of Horrors" and is interested in joining Model United Nations. Johnston mom really inspired her to love theatre.
"My mom got me into Shakespeare plays when I was really young and ever since then I really liked it," Johnston said.
When Johnston reads her favorite genre in Fiction.
"I really like reading Fiction because the real world is kind of boring," she said. "We see the real world every day, and it's really boring to read about. When reading Fiction, you can have anything and its super cool to see other people's imaginations."
When Johnston gets to school she always likes hanging out with her friends and meeting new people. Johnston in her free time always like to watch criminal minds we she can. Johnston is a creative, unique, and open book kind of person that everyone should get to know.
Regan Johnston, Reporter
Oct 04, 2018
Apr 20, 2018
Feb 06, 2018

United In Chicago

(Story)

Nov 30, 2017
Oct 27, 2017

Don't Feed The Plant

(Story)

Sep 29, 2017

Where Dreams Come True

(Story)