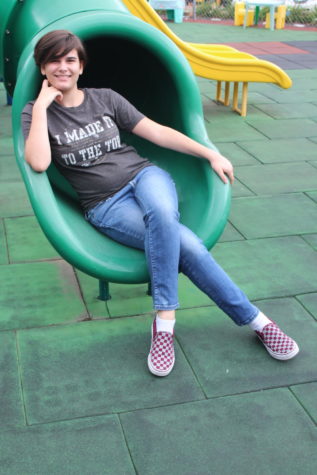 Going into her second year of both high school and newspaper, sophomore Regan Johnston is excited for new opportunities.
"I'm looking forward to learning new things. I'm always trying to learn more and my classes this year are pretty awesome," Johnston said. "My favorite classes so far are Theoretical Chemistry, Advanced Theatre, and Geometry."
Johnston is also excited for the school's plays and musicals, which she tries to get involved in as much as she can. Not only is theatre a fun activity for Johnston, but it teaches her to be empathetic and is what she wants to do when she graduates.
Outside of school, Johnston loves to spend time with her family. Over the summer, Johnston visited family in Tennessee for a family reunion, where she did activities such as mini golfing and white water rafting.
"We go to movies, games, exercise and even just sit around the house. One of our favorite activities is just being lazy together," Johnston said.
Johnston joined newspaper as a nervous freshman, but her love of writing and energetic personality allowed her to fit in right away.
"It helped me become a harder worker and the upperclassmen really helped me transition. I continue to take Newspaper because it's where I belong," Johnston said.
Johnston is a creative individual who is constantly trying to improve herself to become a better person. She values kindness and being herself, which is an extraordinary thing for someone of her age.
Regan Johnston, Assistant News Editor
May 30, 2019

#ThrowbackBlueJays

(Story)

Apr 11, 2019
Feb 12, 2019

Scholars Get Schooled

(Story)

Dec 11, 2018

Junior Faraz Pervaiz

(Story)

Nov 13, 2018
Oct 04, 2018
Apr 20, 2018
Feb 06, 2018

United In Chicago

(Story)

Nov 30, 2017
Oct 27, 2017

Don't Feed The Plant

(Story)

Sep 29, 2017

Where Dreams Come True

(Story)