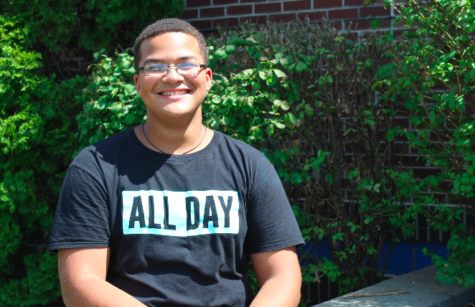 Sophomore Marcus Myvett, a returning staff member here on The Bell, can be described in a variety of ways. The Minnesota local moved to Liberty four years ago because of family and has fell in love with the city ever since, especially the school district.
"The fine arts department is LHS's best feature because there's just so much you can get involved in," Myvett said. This outlook coincides with two of his favorite subjects, which are particularly creative classes, choir and newspaper. However, Myvett manages to also widen his interests to sports, more specifically football and basketball.
Aside from the extracurricular activities, he is also active outside of school.
"High school takes up a lot of my time, but I still have work and church," he said.
In that case, a free period is needed in which he might read his favorite book,
Harry Potter and the Goblet of Fire
, or watch a movie such as
The Waterboy
. It comes to no surprise that Myvett is seen as a comical person and even describes himself as outgoing yet goofy too.
When asked what he'd choose if he could do anything in the world Myvett exclaimed, "I'd go swimming with sharks, I love sharks."
However, he says he's ready to put part of that aside when taking a new role of responsibility on staff. As the current Sports Editor Myvett expects more accountability will be put on him, yet is looking forward to the school year.
Either way, his amusing and talented persona is easily recognizable in its ability to put a smile on your face.
Marcus Myvett, Sports Editor
Mar 16, 2018
Feb 06, 2018
Feb 03, 2018

Upset About the Upset

(Story)

Dec 21, 2017

All I Want For Christmas

(Story)

Dec 19, 2017
Nov 30, 2017

Grateful for the Red and Gold

(Story)

Oct 02, 2017
May 19, 2017
Feb 24, 2017
Dec 06, 2016

War of the Comics

(Story)

Oct 05, 2016
Oct 03, 2016

Blue Jays Come Home

(Story)