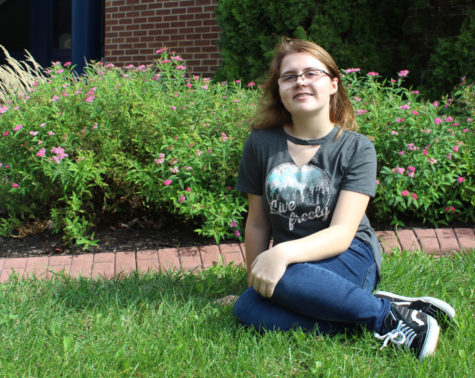 You might hear the phrase "checkmate" roll off the tongue of the chess playing, ELA loving freshman Mallory Fee. Fee is new to LHS and ready to take it head on. Although she is new to the school, she is already involved. In school, Fee is on the newspaper staff and attends Anime Club. ELA is her favorite class so far this school year. Fee really enjoys writing and wants to pursue it in her future.
"I would love to be an editor," Fee said. "I've always corrected people on their grammar and such anyway, so it would be nice to make a career out of that."
Her passion for writing is just one reason Fee joined the newspaper staff this year. Fee also has a passion for people.
"I joined newspaper because I thought it would be cool to get to know people in the school," Fee said. "I also thought it was important to have a group that I can always go back too if I need."
In her freetime Fee is usually drawing, writing, playing volleyball, kicking back and watching the show
Supernatural
, or playing chess. Although some may find chess challenging, Fee has been playing chess since she was young and has mastered the game.
"I've been playing chess for 10 years." Fee said. "My dad owns a chess company so he taught me everything I know. I do a lot of competitions."
It's not just her hobbies and passions that give her an individualistic spark. Mallory has many inspirations that make her the person she is today, her mom being one of them.
"My mom inspires me because she is so hard working and she always seems to know the right things to do or say," Fee said. "I aspire to be like her."
Mallory Fee, Reporter
Feb 26, 2019
Jan 28, 2019

Freshman Abby Schuele

(Story)

Dec 11, 2018

What the Doctor Ordered

(Story)

Nov 01, 2018

Spotlight on Aidan Thieme

(Story)

Oct 04, 2018