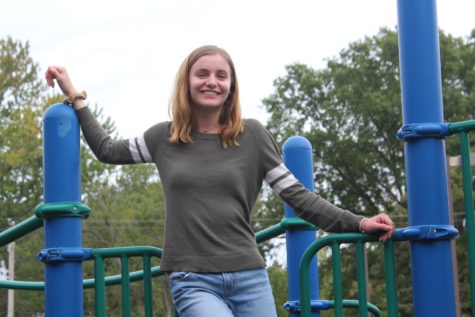 Junior Liz Gammon is in a number of fun activities this year. Including Concert Choir, German 4 and is the Online Manager for The Bell.
"I joined Newspaper because I thought it'd be really fun and beneficial to be on a team." Gammon said. Newspaper is something she can come back to and feel a part of.
Gammon also loves to write. "To express yourself through words, I think it's really cool," Gammon said. Newspaper seems to be the perfect fit for her.
Outside of school Gammon loves to hang out with her best friend Rosie Frederick, watch The Office & Friends and is a competitive dancer at Stars Unlimited. Impressively, she's been dancing since the young age of three.
Gammon's favorite class this year is College Chemistry. In fact, she'd like to pursue chemistry in the future. Education is very important to her, so by being successful and working hard in that area it seems her future plans of being wealthy and having a happy family are bound to happen. "I just want to be happy. I want the people around me to be happy and what I do to make me happy," Gammon said.
Gammon is looking forward to attending her college class this year at Liberty, and is also excited to be driving as a junior. From the number of impressive classes she attends and her outstanding work ethic, Gammon will be successful this school year.
Liz Gammon, Online Manager
Apr 19, 2018
Dec 21, 2017

Sapphires Place at Nationals

(Story)

Nov 28, 2016