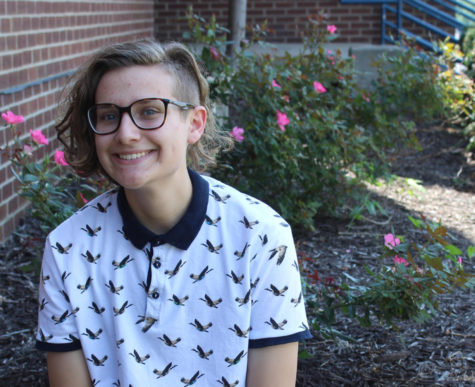 Junior Joey O'Kelly joined newspaper because he wasn't really involved. When staff recruiters came to the junior high to visit, he was enthralled and immediately wanted to join. His favorite thing about newspaper is that all of his closest friends are in it, friends that he made through newspaper. He looks up to senior, Riley Kelley, the Editor-in-Chief. She is everything he strives to be.
O'Kelly's favorite quote is one of his own making, but encouraging nonetheless.
"So you got a three on your quiz. Well, think about it this way, at least you didn't get a two, or a one, or a zero. You got a three. Go you."
This quote helped him push through AP World History his sophomore year. His favorite subject is history and his favorite period of time to learn about is the 1950's and on.
He is passionate about writing, politics, civil rights, social issues, music, love, and all of his friends. In fact, O'Kelly has a band called Joey and Ashleigh. In his band he plays the guitar and, sometimes, the cajon drum. However, he can also play the bass, cello and ukulele. O'Kelly is also the president of the Spanish club. He is part of Link Crew, Breakfast Club, and on the leadership team for Diversity Council.
Something no one knows about him is that is that he is terrified of geese. A random fact about him is that he loves french fries. He also works at Green Lantern Car Wash in the interior service bay. So, next time you're getting your car cleaned at Green Lantern keep your eyes peeled for Joey O'Kelly.
Joey O'Kelly, News Editor, Co-In-depth Editor,Co-Copy Editor
Mar 07, 2018

Blue Jay Walk Out

(Story)

Mar 04, 2018

Don't Hate, Celebrate

(Story)

Feb 09, 2018
Nov 28, 2017
Oct 28, 2017

Star Spangled Banter

(Story)

Oct 27, 2017

Should American citizens have the right to peacefully protest in a public setting?

(Story)

Oct 02, 2017

You Are Not Alone

(Story)

Aug 22, 2017

Dark Side of the Moon

(Story)

May 19, 2017
Mar 15, 2017

Year in the Books

(Story)

Sep 27, 2016

Blue Jay's Make Waves

(Story)