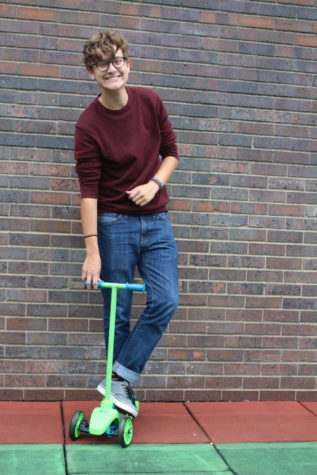 Senior Joey O'Kelly, otherwise known as the cool Newspaper dad, is President of the Spanish Honors Society, President of the Young Democrats, member of the Diversity Council Leadership, Commissioner of LINK Crew, Managing Editor of Newspaper, member of Breakfast Club and a member of Teen Advisory Group.
As President of the Spanish Honors Society, O'Kelly promotes the study of Spanish language and culture. O'Kelly is also the President of the Young Democrats, a club which spreads awareness about Democratic issues and participates in Democratic campaigns.
Outside of school, O'Kelly is a member of TAG or Teen Advisory Group at the MidContinent Public Library. TAG helps to give teenagers a place to hang out by hosting game nights, craft nights, and book clubs. O'Kelly can also be seen working at Charlie's Car Wash.
Back in the eighth grade, O'Kelly was worried about whether he was going to be able to make friends in high school. "When the high schoolers told us about the bonds they had formed with each other, I decided to join newspaper," O'Kelly said. O'Kelly also wanted a way to express his creative side and felt like Newspaper was the best solution to both problems.
For his senior year, O'Kelly is excited about multiple things. For one, O'Kelly can't wait to sit in the front row at football games. O'Kelly is also excited to attend the dances and have a good time with everyone.
However, O'Kelly said he is most excited to pick his future college. "I've been spending so much time doing research, going on visits, and filling out applications," O'Kelly said. "So it'll be nice once I'm all done and have a plan for what I'm doing after high school."
O'Kelly takes a lot of pride about how compassionate and empathetic he is. "I know that people always say 'nice guys finish last,' but I feel like a winner anyway," O'Kelly said. With his compassionate and empathetic mindset, O'Kelly has made great friends and has built great relationships.
In his free time, O'Kelly can often be seen playing many musical instruments. O'Kelly plays the guitar, cello, bass, drums and the ukulele. O'Kelly's crazy dream job would to one day become a musician.
One of the items on O'Kelly's to-do list would be to perform at a music festival. "I think it would be really cool to play my own music and have an audience that's jamming out as much as I am," O'Kelly said.
After school, O'Kelly wants to do something in the political field, such as political campaign manager or political data analyst. However, O'Kelly isn't 100% sure. His other options include high school government teacher, college professor, or even a copy editor.
"One of my best friends and I also had an idea of a 'back up plan' of sorts." O'Kelly said. "If neither of our careers works out, we plan to open a coffee shop/record store called 'Cup of Joe'. It would have coffee, records and live music." Although O'Kelly has a lot of different career choices, he knows he will be happy with whatever he chooses.
Joey O'Kelly, Managing Editor
May 29, 2019

Senior Staff Says Goodbye

(Story)

May 20, 2019

Senior Meredith Rosheim

(Story)

Apr 23, 2019

Transcend, Transform, Transition

(Story)

Apr 01, 2019
Feb 26, 2019

Revoke my Man Card

(Story)

Feb 21, 2019
Feb 21, 2019
Feb 21, 2019

Missouri Scholars

(Story)

Feb 21, 2019
Feb 21, 2019

Be Kind and Unwind

(Story)

Jan 15, 2019
Dec 07, 2018

Take the Time to Waste a Moment

(Story)

Nov 13, 2018

Duolingo Por Cinco Minutos

(Story)

Oct 31, 2018
Oct 15, 2018
Mar 07, 2018

Blue Jay Walk Out

(Story)

Mar 04, 2018

Don't Hate, Celebrate

(Story)

Feb 09, 2018
Nov 28, 2017
Oct 28, 2017

Star Spangled Banter

(Story)

Oct 27, 2017

Should American citizens have the right to peacefully protest in a public setting?

(Story)

Oct 02, 2017

You Are Not Alone

(Story)

Aug 22, 2017

Dark Side of the Moon

(Story)

May 19, 2017
Mar 15, 2017

Year in the Books

(Story)

Sep 27, 2016

Blue Jay's Make Waves

(Story)