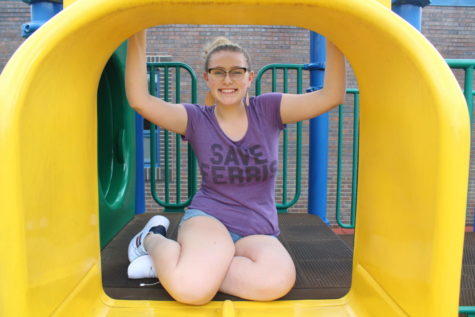 Life for junior Jennavieve Carmony is all planned out. With her goals set, she is ready to tackle  any challenges junior year might throw her way. After a summer of scenic views in Oregon Carmony is ready to get back into the swing of things. She makes sure to keep herself busy at school advocating equality through everything she does.
"Inside of school, I'm active in many clubs. They are important to me because they help me meet people I wouldn't normally interact with on a daily basis and student ambassadors," Carmony said. "I'm also the president of Women's Issues Now. It's my way of showing people all throughout the school that issues that are important to you are the ones that should be focused on. Women's empowerment is very important to me."
When she isn't in school advocating through her clubs you can find her working at Rock and Run down at the Liberty Square. You might even catch her strumming a chord or two on the Ukulele.
"I love to play ukulele and I practice playing it every single day. Music is really important to me," Carmony said. "I attend a music camp every summer at Northwest Missouri State University."
School, work and music aren't the only things on Carmony's agenda. She's already looking ahead for future of being an educator after going to Northwest Missouri State University.
When it comes to newspaper it was something she never thought of joining until now.
"I joined newspaper because I like to write and I've heard really good things about everyone on staff and that made me want to join even more," Carmony said.
Carmony is always ready for success following her motto of "If not now, then when?" LHS watch out because Jennavieve Carmony is coming through.
Jennavieve Carmony, Reporter
Apr 24, 2019

Senior Kaitlyn Kennedy

(Story)

Apr 11, 2019
Apr 11, 2019
Feb 28, 2019
Feb 04, 2019

Trend-All, Be-All

(Story)

Nov 06, 2018

Excited, Involved, Persistent

(Story)

Nov 04, 2018
Oct 15, 2018