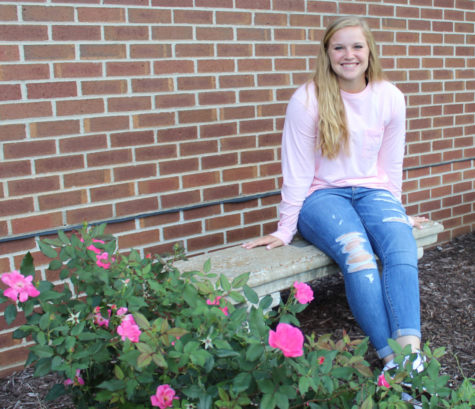 Senior Jenna Spence is planning on hitting it out of the park this school year. With a packed schedule that includes softball, newspaper and the Education Internship Program, Spence has a packed senior year.
Spence will be joining the Emporia State University softball team next fall. For the time being, she is on the varsity softball team for LHS.
"I'm excited to see what this team does," Spence said. "My teammates and my coaches voted Autumn Avery and I to be the team captains, so that's something to look forward to everyday after school."
Spence has been a member of The Bell staff since the beginning of her freshman year. While she started as an admittedly scared freshman, she developed her skills over the years and earned the Managing Editor position for her senior year.
" I am excited to take hold of the organizational part of newspaper and making sure everything is where it's supposed to be in the most organized way possible," Spence said. "Ever since my freshman year on staff I've noticed little things that could be better and could be more organized, so now that I'm the one who is doing all of that I'm excited to see how organized we can be."
Newspaper not only grew her organization and management skills, but actually gave her a clearer idea of her future.
"The biggest change between freshman year and now is that freshman year I wanted to be a journalist," Spence said. "Seeing my peers lead the classroom made me realize that I would much rather be leading a classroom. Newspaper has helped me realize that I want to be a teacher."
In between softball games and deadline nights, Spence leaves some space in her schedule for her friends, who she has developed a strong bond with during high school.
"My friends are very important to me," Spence said. "I've had two best friends since freshman year and we have gone through so much together, just the three of us. They're a big part of my life and I spend a lot of time with them."
Jenna Spence, Managing Editor
Feb 04, 2018
Dec 20, 2017

The Guilt That Stole Christmas

(Story)

Nov 29, 2017

Straight from Spooky to Jolly

(Story)

Oct 28, 2017

Too Busy For A Clever Title

(Story)

Sep 30, 2017

This Doesn't Happen To Me

(Story)

May 19, 2017
Apr 05, 2017
Feb 03, 2017
Jan 31, 2017

Liberty vs Liberty North

(Story)

Nov 03, 2016

Is It Important to Vote?

(Story)

Oct 31, 2016
Oct 10, 2016
May 12, 2016
Mar 15, 2016

Bathroom Etiquette: It's In the Toilet

(Story)

Feb 19, 2016

Beyond the Four Walls

(Story)

Nov 24, 2015
Oct 27, 2015

Liberty gets a new Street Sign in honor of the Royals

(Story)

Oct 13, 2015

We'll Just Have Our Own

(Story)

Apr 27, 2015

Donut Skip Breakfast

(Story)

Mar 17, 2015

Do you Jiu Jitsu?

(Story)

Dec 19, 2014

Having a Blue Christmas

(Story)

Dec 04, 2014

Food, Family and Football

(Story)

Nov 12, 2014

Administrator Cris Ward

(Story)

Nov 12, 2014

Senior Malae Selepeo

(Story)

Oct 20, 2014

A Royal Experience: Headin' to the World Series

(Story)