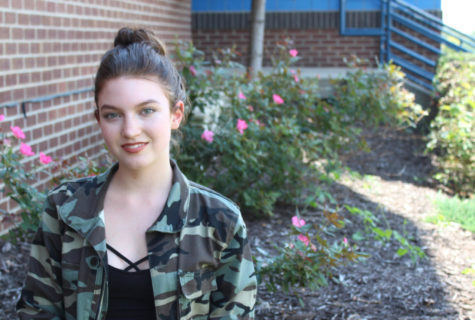 You could say that junior Haley Stephenson is really in her element this year. Coming off a pretty busy summer of balancing work, friends and other responsibilities, she's developed a sense of freedom and confidence.
"I feel like I really established a strong friend group, which is something that I've never really had," she said.
Stephenson transferred from the North Kansas City school district as freshman, and took a chance on Newspaper without much intention of staying but she says she soon found it was the best first decision she'd had ever made here in Liberty.
She gradually became accustomed to Liberty, the staff and the students alike.
"People expect greatness from you here," Stephenson said, "I think that teachers are more involved and education is more prioritized."
Even throughout her transition to Liberty, Stephenson held tight to her love for fashion and regularly makes the conscious effort to dress well.
"What you wear, how you present yourself and how you look really does affect someone's first impression of you," Stephenson said. "It's really the freedom to express yourself."
She always tries to go above and beyond in her first impressions by branching out and always trying new clothes and emerging styles.
Although Stephenson is not 100% sure on her career and college choices yet, she has really set herself up for personal greatness in the years to come.
Haley Stephenson, Spotlight Editor
Apr 20, 2018
Mar 22, 2018

School's Out, Show's Out

(Story)

Feb 07, 2018
Feb 06, 2018

Nothin' But Netflix

(Story)

Dec 19, 2017
Nov 28, 2017

The Gift of Giving

(Story)

Oct 01, 2017

Is Open Parking Efficient?

(Story)

Sep 28, 2017

Between the Lines

(Story)

Mar 10, 2017
Nov 30, 2016

Shine Bright Like A Sapphire

(Story)

Nov 29, 2016

Shine Bright Like A Sapphire

(Story)

Nov 02, 2016

Oversea-ing Education

(Story)

May 12, 2016

Teacher Send-Offs

(Story)

Mar 11, 2016

The Road to Nationals

(Story)

Jan 11, 2016

Liberty Designers

(Story)

Sep 25, 2015

There's No Place like Homecoming

(Story)