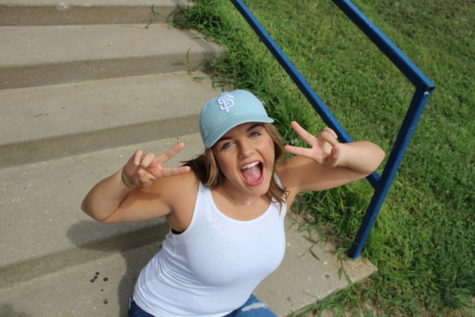 Junior Grace Buehler has a very outstanding personality. Buehler is compassionate with all ages.
"I cheer, I'm in key club and also I do A+ program for kindergarteners," Buehler said.
After high school she wants to go to the University of Missouri and get a degree in early childhood education and become a kindergarten teacher.
Buehler has a favorite social media: Instagram.
"I am very creative with my captions," Buehler said.
This is her first year on Newspaper staff.
"I did photojay last year and I really liked it so I want to do newspaper so I can strengthen my writing abilities," she said.
We will be glad to add Grace Buehler to our 2017-18 staff.
Grace Buehler, Opinion Editor
Aug 28, 2018

Words of the Wise

(Story)

May 04, 2018
Feb 10, 2018

A Whole New World Part 3

(Story)

Feb 07, 2018
Jan 29, 2018
Dec 05, 2017
Nov 10, 2017

Disease Surveillance

(Story)

Nov 10, 2017

October's Athletes of the Month

(Story)

May 15, 2017
May 11, 2017
May 10, 2017

May Athlete Of The Month

(Story)

Apr 03, 2017
Mar 30, 2017

What New Theater?

(Story)

Mar 30, 2017
Mar 30, 2017
Mar 30, 2017

Diversity Council

(Story)

Mar 15, 2017

March Athlete Of The Month

(Story)

Dec 21, 2016

Grace Buehler December photos

(Story)

Nov 22, 2016

Grace Buehler November photos

(Story)

Oct 31, 2016

Grace Beuhler October photos

(Story)

Sep 28, 2016

Homecoming: Tropical Toons

(Story)