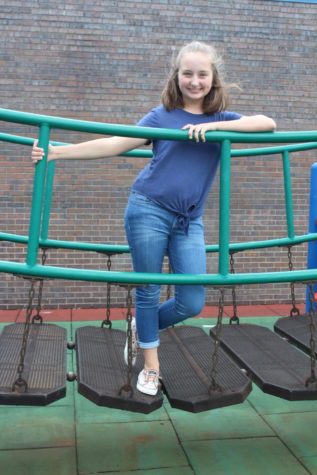 After a long summer of hanging out with friends and family, sophomore Emma Stauffer is ready to tackle another year of high school with her head held high.
"I'm really looking forward to meeting new people, and learning new things," Stauffer said "I'm also excited about the classes I'm taking, I feel like I have a good year ahead of me."
After taking a semester in Journalism 1, Stauffer decided to take Newspaper. This will be her first year of Newspaper, a job she's not going to let any obstacle get in her way to complete.
"I ended up really enjoying Journalism, so I decided to join Newspaper," Stauffer said "I'm really trying to branch out and step out of my comfort zone this year. I feel like Newspaper might be good for that."
To all of her fellow Newspaper staff, Stauffer has a message:
"I would like them to know that although I might seem really quiet on the exterior, once I get comfortable with the people around me, I can actually be pretty extroverted."
Newspaper's not the only way Stauffer wants to branch out, she can also be found in both Be Kind and Unwind club and Key club.
"I feel like both of these clubs are a really good representation of who I am, because I really like to give back to the community and spread kindness, which I think is something that is very important in our school," Stauffer said.
Outside of school, Stauffer values family time, and tries to spend every second she can with them.
"I really like to spend time with my family, not only my parents and my brother, but my cousins who live a couple hours away that we see pretty often." Stauffer said.
She also enjoys reading, spending time outside, and cooking with her family.
One book Stauffer likes to read in particular is Harry Potter. She believes that JK Rowling's writing is what made her love reading and literature the way she does
Emma Stauffer, Reporter
May 15, 2019

Campaigning for Council

(Story)

Apr 17, 2019

Freshman Jack VanSickle

(Story)

Apr 03, 2019

Comparing the Classics

(Story)

Feb 06, 2019

Sophomore Sarah Shores

(Story)

Jan 18, 2019

The Flying Trailblazers

(Story)

Dec 12, 2018
Nov 07, 2018

International Dreams

(Story)

Oct 15, 2018

Spotlight on Patrick Sheeley

(Story)