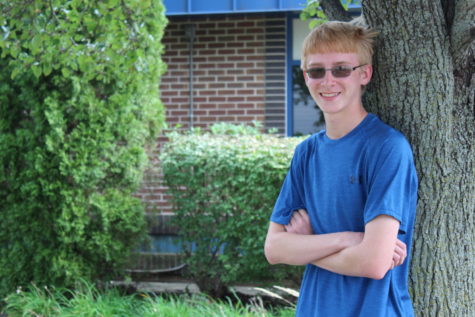 While it may be freshman Derek Katzer's first year at the of LHS, this isn't his first experience with "new worlds." Katzer has a passion for reading and writing that stems from his desire to travel to new worlds via the words on pages of his books. He enjoys the way that a writer can play with a readers emotions and transport them to somewhere else, which led to his decision to join newspaper and help improve his writing abilities.
"If I could have any career, it would probably be a writer," Katzer said. "I love how writers are able to make readers feel certain emotions and bring them into different worlds. Being able to be paid for doing this would be amazing."
The class also gives him the opportunity to have a class with his friends, who he cares about deeply. Katzer has a big heart full of love and gratitude to those closest with him.
"It's not what helped me in life but more of who helped me in life," Katzer said. "I have to give credit to my family and close friends. My family taught me the values I hold and my friends were there when I was struggling with personal baggage."
Love and gratitude may occupy Katzer's heart, but his mind is filled with a desire to learn and experience new things. Since he felt he wasn't challenged enough in middle school, Katzer decided to take some advanced and honors classes as a freshman, such as Advanced Algebra II and Honors American History. Katzer also chose to enroll in Chinese I, which caters to his fascination with Asian languages.
"My goals in life would be happiness, knowledge and a purpose," Katzer said. "I want to feel happy with myself and I want to learn as much as I can about topics I love. For purpose, I want to find somewhere where I belong. I'm hoping high school will help me with this goal."
Katzer is eager to learn, eager to love and eager to live. He is ready to make an impact, one word at a time.
"Knowing that something I have done has made a positive impact on somebody's life makes me happy," Katzer said.
Derek Katzer, Reporter
May 24, 2019
Apr 18, 2019

Powerhouse of the School

(Story)

Apr 10, 2019

Sophomore John Alvey

(Story)

Feb 06, 2019
Jan 31, 2019
Dec 07, 2018

Sophomore Natalie Adams

(Story)

Nov 06, 2018
Oct 15, 2018

Spotlight on Karrell Simpson

(Story)