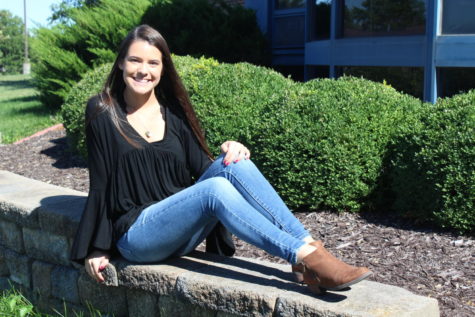 Senior Delaney Tarpley isn't just another fish in the pond this year. From being in a leadership position on KLHS, to being a part of the National Honor Society, Tarpley is truly an amazing student.
Like many students, Tarpley is eager to make her senior year outstanding.
"I'm going to try and make the most of this year because it's my last," Tarpley said. "I'm excited to finish strong with grades and activities."
Her strength definitely shows, considering she's currently involved in Link Crew, National Honors Society, Spanish Honors Society, Spanish Club, Newspaper, KLHS, and tennis, just within the school.
Tarpley also participates in many activities aside from school, like tennis lessons, National History Day and the Teen Advisory Group at Mid-Continent Public Library, more commonly known as TAG, which helps bring teens to the library.
Not only is Tarpley exceptional at living in the moment, but she has her future thought out as well.
"My dream job is that I'm going to college for would be a broadcast journalist or news anchor," Tarpley said.
Tarpley has been taking steps toward her dream job since she first stepped foot into the halls of LHS.
"What I've been doing to prepare for my future career would be the past four years of Newspaper and these past two years of KLHS," Tarpley said. "I am on the leadership team for KLHS this year, so I'm hoping that'll look good on my college application."
Not only that, Tarpley has already sent her application to Mizzou.
"You're just another fish swimming in a very, very big pond so you really have to try and work hard to prove yourself."
Prove herself she will. There's nothing but high hopes for Delaney Tarpley and there's no doubt that she'll easily live up to everybody's expectations this year, and for the years to come.
Delaney Tarpley, Co InDepth/Copy Editor
May 29, 2019

Senior Staff Says Goodbye

(Story)

May 22, 2019

Senior Kellan Broyles

(Story)

Apr 25, 2019

It's Getting Hot in Here

(Story)

Apr 04, 2019

Senior Zach Ervie

(Story)

Feb 26, 2019
Jan 09, 2019

Hollywood: Step it Up

(Story)

Nov 09, 2018
Oct 15, 2018
May 10, 2018

Not Your Typical TSA

(Story)

Mar 22, 2018

School's Out, Show's Out

(Story)

Feb 07, 2018
Dec 19, 2017

A Whole New World Part 2

(Story)

Oct 27, 2017

A Whole New World

(Story)

Sep 29, 2017

Where Dreams Come True

(Story)

May 19, 2017

They Sure Are Grad

(Story)

Apr 03, 2017
Feb 06, 2017
Dec 26, 2016
Nov 29, 2016

Beauty-ful Nights

(Story)

Nov 03, 2016
Sep 29, 2016
May 12, 2016
Feb 25, 2016

Celebrate Valentine's Day

(Story)

Jan 05, 2016

Stirring Up Success

(Story)

Dec 10, 2015
Nov 09, 2015

Not the Whole Story

(Story)

Oct 05, 2015

Early Birds Get the Worm

(Story)