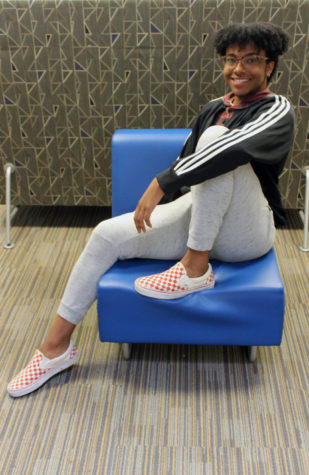 Senior Danny Johnston loves all kinds of art, from lyrics in a song to strokes of a brush to moments captured on camera. He appreciates all the creative inventions the world has to offer.
"I find it rewarding being able to find beauty in something others would call ordinary," Johnston said.
Johnston, normally known for his four years with the school broadcasting group, KLHS, joined newspaper to increase his journalism knowledge and skill. Not only is Johnston involved in both KLHS and newspaper, he is also involved in Diversity club and Link Crew.
Johnston is currently internering for Dallas Akerman for channel 18 in hopes of expanding and pursing his interest in Journalism. He wants to go to Clark Atlanta University to get his degree in  Journalism or Media communications. Which he hopes to use to work at CNN as a either a producer or a director in Atlanta, Georgia.
"I'm looking forward to graduating high school and college then moving onto bigger and better things," Johnston said.
A motivational quote for Johnston would have to be: "You gotta risk it to get the biscuit," which was said by Jimmy Fallon of
The Tonight Show with Jimmy Fallon
.
When he's not at school, Johnston just loves to watch
Ratatouille
and relax or spend times with his family and friends. When Johnston isn't unwinding and spending time with friends, he wishes he had a little mouse that pulls all the strings.
Danny Johnston, Reporter
May 29, 2019

Senior Staff Says Goodbye

(Story)

May 23, 2019

Senior Dylan Johnson

(Story)

May 01, 2019
Apr 01, 2019

I is for Influential

(Story)

Feb 06, 2019

Freshman Jonathan Fang

(Story)

Jan 14, 2019

Campaign for Change

(Story)

Dec 14, 2018
Nov 14, 2018
Oct 09, 2018

Last But Not Least

(Story)

Oct 03, 2018

Swimming to Success

(Story)