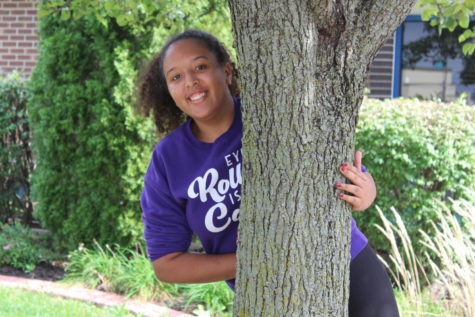 Daisy Smith has a major interest in European culture. She plans on expanding her knowledge on the performance arts in all of the different countries of Europe. Each continent comes with unique traits, and Smith wants to find out how Europe's theatres vary from the ones she has grown to love. Even though Smith plans on comparing the theatrical cultures, she will mostly be taking in her new surroundings and getting as much sightseeing done as possible.
"If I could go anywhere I would go on a tour of Europe," Smith said. "I know that's a pretty broad statement but there's just so much in Europe that I want to see and do."
Going into her Junior year, Daisy Smith has a lot going on and when she has free time she uses it to practice for upcoming events at school.
"Outside of school I don't really do much because of how much time I spend in my extracurricular activities," Smith said.
Some of the activities that Smith is involved in are Link Crew, Theatre, Speech and Debate, Thespians and Choir.
Even though it seems like Smith is involved in everything she can be, she feels like she should be more involved with the people at the school.
"This year I want to step outside of my comfort zone and meet new people," Smith said.
Building up more people skills would probably be good for Smith. She said that she may want to work with kids or be an actress.
Along with her many passions and interests she's known for some strong characteristics that may help her out. Many of her friends call her hardworking and driven, which will help her pursue wherever life takes her.
Above all, Smith wants to do everything she loves and find out what suits her.
Daisy Smith, Reporter
May 29, 2019

Do students make their high school career count?

(Story)

May 24, 2019
May 06, 2019

It's Up for Debate

(Story)

Apr 10, 2019

Freshman Kennedy Naseem

(Story)

Feb 26, 2019

Do teens know how to leave dangerous relationships?

(Story)

Feb 26, 2019
Jan 08, 2019

Give it All You've Got

(Story)

Dec 06, 2018

Freshman Evan Marley

(Story)

Nov 14, 2018
Oct 15, 2018
May 19, 2017
Mar 30, 2017
Feb 05, 2017

The Achievement Gap

(Story)

Oct 03, 2016

Sing it Loud and Proud

(Story)