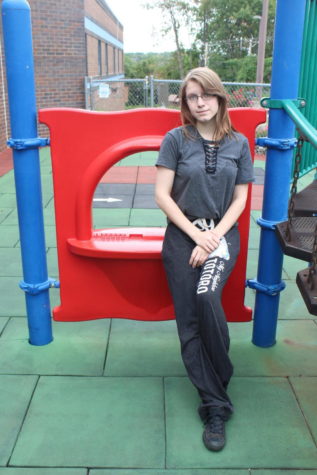 Junior Chrystian Noble has an open heart and a calm personality. She's a person who brings wise intellect and a smile wherever she goes. One of her many hobbies is taking a memory with her through the lens of a camera.
"I've always really liked taking photos and being able to capture a moment to keep it with you," Noble said.
She keeps scrapbooks to commemorate all her photos, including ones of trips she's been on. Noble is eager to stride through her junior year at LHS and is most excited for Photo-J and her involvement with the theatre productions. She's in Stage Crew and assists with managing and building the sets.
Along with her hobby of snapping photos and building sets, Noble is also an artist for the World's of Fun Halloween Haunt and helps people look like they're coming out of a horror movie.
In addition to the intricate types of arts she does, Noble started playing the viola in third grade because she loved to listen to it because of the darker tone the viola had.
Despite her busy schedule, she still makes time for the simple things in life: black coffee and plain strawberry ice cream (not together, though). She picked up the habit of drinking her coffee black from her great grandmother at the age of five. Together, they would dunk their distinctive off-brand oreos into coffee and have a conversation at the family farm.
Another pleasure of Noble's is reading.
"When you open a book and you start to read, it's like you're in a white room. There's nothing around you and then you pick it up and you start with one word," Noble said. "Then there's more and you're immersed into this whole new world that you haven't seen before."
Chrystian Noble, Photo Editor in Chief
May 29, 2019

Senior Staff Says Goodbye

(Story)

Feb 22, 2019
Feb 21, 2019
Jan 11, 2019
Apr 24, 2018

Hit It Home

(Story/Media)

Apr 20, 2018

Rock Em Sock Em Robotics

(Story)

Feb 10, 2018

A Whole New World Part 3

(Story)

Jan 29, 2018
Jan 29, 2018
Dec 20, 2017
Dec 20, 2017
Dec 05, 2017

Winter Wonderland

(Story)

Nov 17, 2017
Nov 07, 2017

A Whole New World

(Story)

Nov 06, 2017

Don't Feed the Plant

(Story)

Oct 02, 2017

Espresso Yourself

(Story)

Sep 26, 2017

And The Home Of The Jays

(Story)

Sep 26, 2017

Espresso Yourself

(Story)

Sep 08, 2017

The Grand Opening of the Nest

(Story)

Aug 18, 2017

Blue Jay Nation 2017

(Story)

May 11, 2017
Mar 30, 2017
Mar 30, 2017
Mar 28, 2017
Mar 15, 2017
Mar 15, 2017

Science Knowledge Bowl

(Story)

Mar 15, 2017
Mar 03, 2017
Dec 21, 2016

Chrystian Noble December photos

(Story)

Nov 22, 2016

Chrystian Noble November photos

(Story)

Oct 31, 2016
Oct 31, 2016

Chrystian Noble October photos

(Story)

Aug 23, 2016

Chrystian Noble Photography

(Story)