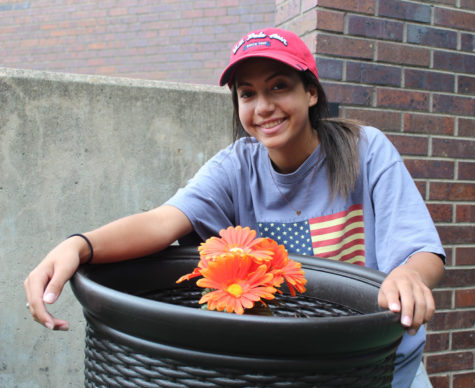 Junior Alyah Craig, known to her family as AJ, is ready to start off the year as a new member of StuCo. Her junior year will be very filled up by, hanging out with friends, going to events taking photos for the yearbook, being an editor for the school newspaper, and also holding up a job at the same time.
"I mainly hang out with friends or go to a lot of school related events outside of school. I recently got a job at Goodwill so that takes up a lot of my time as well," Craig said. "I am also a photographer for the yearbook. I joined StuCo this year as well and am looking forward to see what that holds for me this year."
This is Craig's second year on The Bell staff, and she has already made a difference by being the Features section editor. One of her biggest career goals to be a well-known author and going to the journalism school at Mizzou. She is already working on this goal is by being on newspaper and AP Lang, which are her two favorite classes.
"In the future, I want to become a successful author in general. I plan to go to MU for their journalism program because I've heard it's great," Craig said. "If that doesn't work out then I'm definitely going into the FBI to work as a profiler. I would like to thank Criminal Minds for that realization."
Not only has that show influenced her, but her best friends have as well. The have been by her side since middle school. Her best friends are Emily Black and Josey Vickers. They have influenced Craig by supporting her and being her entertainment. She is excited to hang out with her friends at the football games because she has made some great memories already by taking photos and getting hyped in the student section.
"I love the memories of going to football games and being able to take photos. I love being on the field with my friends and trying to come up with creative ideas for shots," Craig said. "The atmosphere at the games is fun too where everybody is supporting the team and each other."
Alyah Craig, Features Editor
May 01, 2019
Apr 11, 2019
Feb 05, 2019

Junior Drake Parker

(Story)

Jan 14, 2019

Artistic Abilities

(Story)

Dec 10, 2018
Nov 14, 2018
Aug 28, 2018

Words of the Wise

(Story)

Apr 25, 2018
Mar 08, 2018
Feb 10, 2018

To Post or Not To Post?

(Story)

Dec 19, 2017

Sounds of the Season

(Story)

Nov 29, 2017

Winter Wonderland

(Story)

Oct 27, 2017